It would be unfair to accommodate Gauri's incredible journey in six episodes, but the makers have done justice by casting Sushmita Sen.
She adds a touch of elegance and reform in some of the most challenging scenes, applauds Divya Nair.
There is a solid connection between Gauri Sawant and the actor, who plays her in the latest series television series Taali: Both are single mothers and strong, independent women, who have inspired an entire community to clinch their once 'impossible' dreams.
Former Miss Universe Sushmita Sen makes a sincere effort to tell us the story of how Ganesh Sawant, a young boy from Pune, ran away from home and went on to become Shreegauri Sawant, a proud transwoman, who fought for equality and identity while also playing the role of an affectionate mother to several destitute, less privileged and abandoned children.
Written by the talented Kshitij Patwardhan and directed by Ravi Jadhav (Natarang, Balak Palak fame), the six-episode series is narrated in flashback and takes us through three important and defining phases of Gauri's life journey: The fight for Survival, Identity and Equality.
Ganesh (played by Krutika Deo) is the youngest son to his parents.
A chirpy boy with dreamy eyes, Ganu, as he's fondly called, lives with his mother, elder sister (Hemangi Kavi) and father who is a strict, conservative police officer.
In his introductory scene from childhood, Ganesh's class teacher asks him what he'd like to become when he grows up. He says 'I want to be a mother' and continues to describe how he'd love to wear a bindi, sari, lipstick, when his furious class teacher abruptly cuts him short and asks him to be seated.
One can easily identify with the teacher's plight because the incident happened two decades ago. Perhaps, some of us less mortals reading this, could be guilty of bullying a classmate over his effeminate ways, simply because it was not 'normal', or let's say 'normalised' by society.
Ganesh obviously doesn't understand why his honest confession had irked the teacher or became the stuff of embarrassment for his batchmates.
In another incident, his father shamefully drags him off the stage while he's passionately performing a Lavani set and pleads with him to never dress up as a female ever again.
A heartbroken Ganesh is caught between his duty as a son and owning up his identity. He reluctantly chooses the former while concealing his natural likes and desires.
After his mother's untimely demise, Ganesh realises that he has lost the one person he'd hoped would perhaps understand and support him.
His elder sister offers some respite while their father continues his efforts to 'normalise' his son through sexual clinic visits and medication while completely unaware of his son's natural affinity towards all things feminine even during his adolescent years.
As fate would turn out, Mr Sawant accidentally discovers his son's true intentions and instead of accepting the truth and embracing Ganesh, he chooses to abandon him.
Ganesh runs away from home and comes to Mumbai in search of a livelihood. After dealing with a spate of struggling scenarios, he gathers courage and confidence to chart his own path instead of surrendering to circumstances.
He chooses to educate sex workers, undergoes a gender affirmation surgery, secures a job as a teacher while also rescuing young and abandoned children with the hope of building a home for the less privileged.
When Gauri realises that she's not entitled to certain benefits of the Constitution because transgenders are not 'legal entities', she files a petition, risking it all to fight for the rights and recognition of the 'other gender'.
It is this larger battle that is the essence of Taali, from being known as 'people who clap on the streets' to carving your own identity and having people to clap for your talent, your worth and your identity.
It's been a little over six years since I first met Gauri Sawant at her home in Malad, north west Mumbai.
The series helped me relive most parts of her life's journey just the way she had narrated it to us. Some crucial parts, it would be safe to say, have been edited for clarity, length and maybe with Gauri's due permission.
But there are so many powerful incidents from Gauri's life that find an apt mention in the series, like the scene when Ganesh becomes Gauri during Ganeshotsav.
Or the scene when the principal who hires her, says: 'You're the first transgender I have met with so much elegance and simplicity.' And Gauri retorts, 'How many have you met?'
It's an impactful scene.
Considering how the entire series begins with Ganesh's dream of becoming a mother, one dialogue that really resonated with me was when Gauri's best friend, Nargis, a kinnar, says: 'Ek certificate se koi doctor ban sakta hai, koi engineer ban sakta hai to main biwi aur tu ma ban sakti hai?'
It would be unfair to accommodate Gauri's incredible journey in six episodes but the makers have done justice by casting Sushmita Sen. She adds a touch of elegance and reform in some of the most challenging scenes. But I couldn't help ignore Sushmita's well-manicured nails or her slightly hesitant command over Marathi, especially the gaalis, which, I believe is something you must master to play a role like this.
But this, by no means, takes away Sushmita's credit in bringing to life such a powerful character.
Taali is Sushmita's version, more like a tribute to the original Gauri Sawant.
Apart from Sushmita and Krutika, Hemangi and Sheetal Kale (who plays Nargis) deserve special mention for lighting up the sequences featuring them, and adding a human touch without going overboard.
The dialogues and screenplay work in tandem to bring inanimate things and events to life.
There are so many beautiful moments in the screenplay that convey so much flawlessly, like when Ganesh is going in for surgery and he sees flashes of comments that pushed him to where he is today until he is comforted by the soothing memory of his mother.
The final scene when Gauri walks out of court after a landmark verdict sums up the bitter-sweet taste of success after a long and lonely struggle.
When the reporters ask the quintessential question, How do you feel, an emotional Gauri responds, 'Aaj aai ki bahut yaad aa rahi hai. Bachpan me aai ne sikhaya tha, khyal rakhna. Aur Dada ne sikhaya, apni raksha karna. Aaj maine dono kiya.'
It's a scene that is certain to resonate with everyone. Applause-worthy.
Taali streams on JioCinema.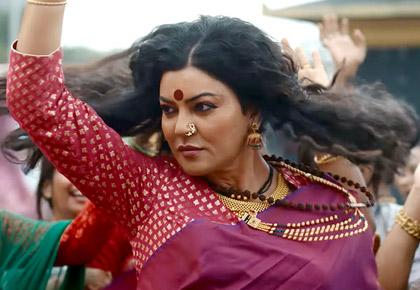 Source: Read Full Article