Nineteen political parties are running against Hun Sen's ruling Cambodian People's Party (CPP) but none are strongly critical of the prime minister or the government.
At the Toul Kork Primary School in the Cambodian capital Phnom Penh volunteers swept classrooms and laid out wooden desks on Saturday, transforming rooms into polling booths ahead a general election Prime Minister Hun Sen is expected to easily win.
"I believe voters will come out to vote," Yos Vanthan, head of the school's election committee, told Reuters.
Hun Sen's critics have called for an election boycott, saying that without any real opposition to the government, the poll will be a shame.
Voting is not mandatory, but authorities have warned that anyone who boycotts the vote will be seen as a "traitor".
Nineteen political parties are running against Hun Sen's ruling Cambodian People's Party (CPP) but none are strongly critical of the prime minister or the government.
His main challenge the opposition Cambodia National Rescue Party (CNRP), which narrowly lost the last election in 2013, was dissolved by the Supreme Court last year and many of its lawmakers banned from politics for five years.
Hun Sen, a former Khmer Rouge commander who eventually defected from Pol Pot's murderous regime, has been in power for more than 30 years and is the world's longest-serving prime minister.
Many CNRP leaders have fled abroad and are living in self-imposed exile and its leader, Kem Sokha, was jailed in September on treason charges, leaving Hun Sen, who has ruled for 33 years, with no significant opponent.
Some Western countries and the United Nations have questioned the credibility of the election because of the lack of any significant opposition. Rights groups have criticised restrictions placed on independent media and civil society.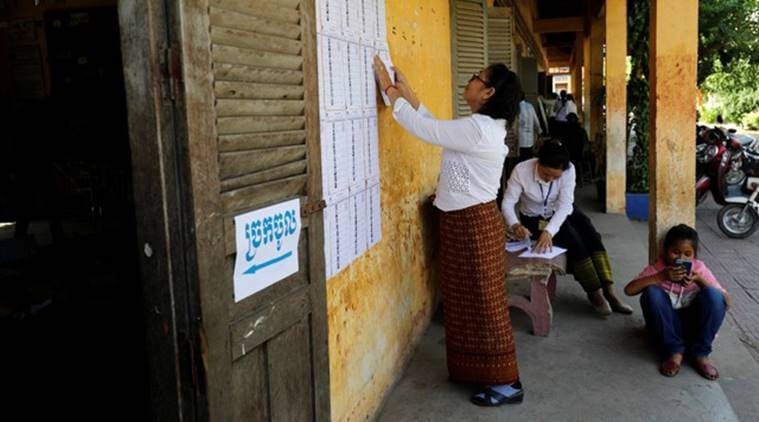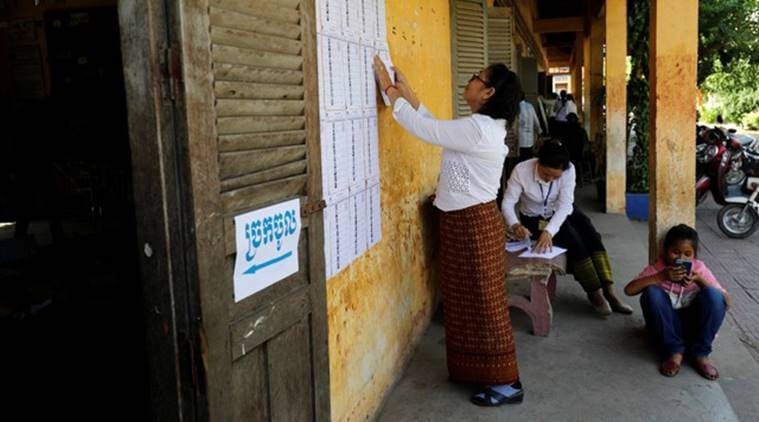 Officials say they don't expect any violence on election day, but last week authorities put on a show of power, with police displaying anti-riot gear and assault rifles in the capital in a move meant to discourage any street protests.
Police on Saturday arrested four farmers and accused them of planting a grenade at a polling station in the country's northern Preah Vihear province, provincial police chief Ying Samnang said in police report. The device did not explode.
Dim Sovannarom, a spokesman for the National Election Committee, who inspected the Toul Kork Primary School in Boeung Kak 1 commune on Saturday, said the commission expects more than 60 per cent of registered voters to cast their ballot.
Nearly 70 per cent cast their ballot during the last general election in 2013. "We expect more than 60 per cent in the whole country," Dim Sovannarom told reporters, before unveiling grey metal polling boxes donated by the Japanese government.
But some Cambodians see no point in voting and a low-voter turnout could undermine the CPP's claims to legitimacy.
"Why should I vote? It makes no difference," said an airport taxi driver from the southwestern province of Takeo. He declined to be named for fear of repercussions.
Mu Sochua, CNRP deputy president, said any country that does not denounce the election cannot call itself democratic. "Any country supporting, or that is hesitant to denounce the election as a sham, should not call itself on the side of democracy," Mu Sochua told Reuters.
Critics, including exiled opposition members, have called for targeted sanctions against Hun Sen's government and its allies following his pre-election crackdown.
On Wednesday, the US House of Representatives passed a long-awaited Cambodia Democracy Act, paving the way for sanctions to be imposed against Hun Sen's inner circle.
This week Japan said it would not send observers to the election despite doing so in numerous elections in the past.
Source: Read Full Article