Founded in 2011, Pussy Riot is a Russian feminist protest group that has staged provocative guerrilla performances in public places and have voiced their criticism against Vladimir Putin (whom they describe as dictator) and other Russian allies.
The second-half of the World Cup final between France and Croatia was briefly interrupted on Sunday after members from the Russian protest performance group Pussy Riot ran onto the pitch before being hauled off by stewards. Dressed in police-style outfits, the intruders were later detained by police, the group said on its Facebook page.
The pitch invasion was the first significant security lapse in the five-week tournament that has won hosts Russia widespread praise for organisation and efficiency. In a post on its Facebook page, the group said its action was intended to draw attention to what it said were human rights abuses in Russia. This is, however, not the first time that the group has staged a protest against Russian President Vladimir Putin.
What is Pussy Riot?
Founded in 2011, Pussy Riot is a Russian feminist protest group that has staged provocative guerrilla performances in public places and have voiced their criticism against Vladimir Putin (whom they describe as a dictator) and other Russian allies. Notorious for their colourful balaclavas (a cloth headgear), the group members usually conduct several unsanctioned public performances, record it and later distribute them as music videos online. Committed to socio-political change in Russia, the group has advocated for feminism, LGBT rights and oppose the church-state confluence in Russia.
Pussy Riot's protests: From Trump to Putin, all taken into the fold
The group came to prominence after it staged a protest inside Moscow's biggest cathedral in 2012, for which three participants were arrested and jailed. Five members broke into the Moscow cathedral, performing a "punk prayer" from the altar. This song, titled Holy Shit, was a condemnation of the Russian Orthodox Church's close ties to Putin. "Holy Mother, Blessed Virgin," they sang, "chase Putin out!" the group sang, The Guardian reported. The protest divided Russia with many feeling that the group members were being treated too harshly and were made examples of as part of attempts to clamp down the criticism against the Putin-led government. Various musicians like Sting, the Red Hot Chilli Peppers, Madonna and Yoko Ono called for their release, while human rights groups designated them prisoners of conscience. the BBC reported.
Earlier this year, the group released a new song, Elections, to protest against "18 years of Putin's power." "What 18 years of Putin's power has brought to us? Arrests, poisonings, tortures, murders of political activists. Institutional corruption which is HUGE. Total erosion of democratic institutions. Giant economic inequality. Worsening of prison conditions. An environmental catastrophe in lots of industrial regions of Russia. Censorship everywhere – in media, in education, in internet, in people's heads. Self-censorship, caused by fear. You should not be deceived, this event on 18th of March is not elections. Falsifications, eliminations of political opponents, Kremlin-controlled media leave no chance to anybody except Putin," the group added in a statement.
Taking a dig at US President Donald Trump, the punk rock group also released a song celebrating the vagina. "Female power and female sexuality are yet to be discovered. Discussed. Performed. Lived up. And the owner of vaginas is not some narcissistic stupid orange ape who'd claim that he could easily grab women by their pussies. The owner of vagina is a woman. Who wears her vag as a badge of honour," the group said in a statement released with the video.
The group has voiced their protests on various issues like the imprisonment of filmmakers like Oleg Sentsov, Pedro Almodovar among others. The group also staged a protest against the Putin establishment during the Sochi 2014 Olympics games with the song, "Putin will teach you to live the motherland."
Demands during the World Cup protests
In its Facebook post, Pussy Riot complained of rights abuses in Russia. It alluded to Oleg Sentsov, a Ukrainian filmmaker jailed for 20 years in 2015 for setting fire to two offices in Crimea, including one belonging to Russia's ruling party, after Moscow annexed the region from Ukraine.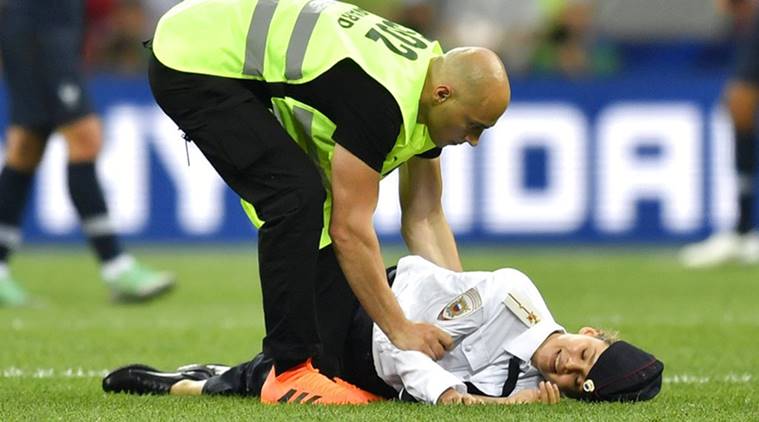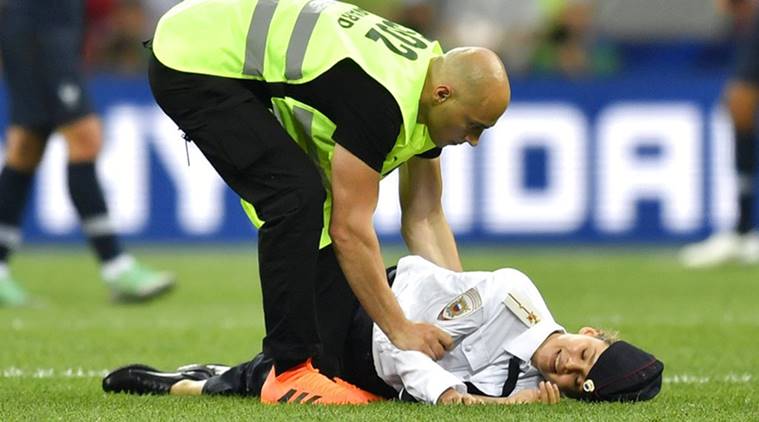 Listing down its protests, the group wrote, "Free all political prisoners, Stop jailing people for social-media "likes," Stop illegal arrests at protests, Allow political competition, Stop fabricating criminal cases and putting people in jail for no reason, Turn the earthly policeman into a Heavenly Policeman."
The group shared a video on social media recorded before the incident featuring three female activists, at least two of whom were among those detained. They wore police uniforms and one of them wore a pink balaclava. "The World Cup has shown wonderfully what the police can be like in Russia, but what will happen afterwards?" one of the activists asked in the video, an apparent allusion to lenient policing noted by Russians during the tournament.
(With inputs from Reuters)



Kremlin denied US election meddling just before indictments




Paul Manafort loses bid to stay in 'VIP' jail, could face evidence from 1980s
Source: Read Full Article