Millets was the flavour of the G20 Delhi summit, with the world's elite leaders chomping on this grain that once was considered lowly farmer's fare. And this wonder grain is the darling of 2023, which is, of course, the International Year of Millets.
Chef Vicky Ratnani has a groovy recipe that allows you to incorporate the superfood in your chai-time menu.
In his Millet Chaat, he adds a crispy, deep-fried pattice to bring in a crunchy element. Green chutney and green chillies add the zing, while the tamarind chutney and pomegranate arils bring sweetness and khattapan (sourness) to the dish.
Mumbai-raised Chef Ratnani grew up in a joint family where 'Everybody loved eating. All my aunts, and grandmothers, were champs at cooking' he told Travel + Leisure. Chef Vicky earned his degree at the Institute of Hotel Management, Mumbai, and began his career on cruise ships, including the now-retired Cunard Line's RMS QE2. His NDTV cooking show Vicky Goes Veg made him a household name.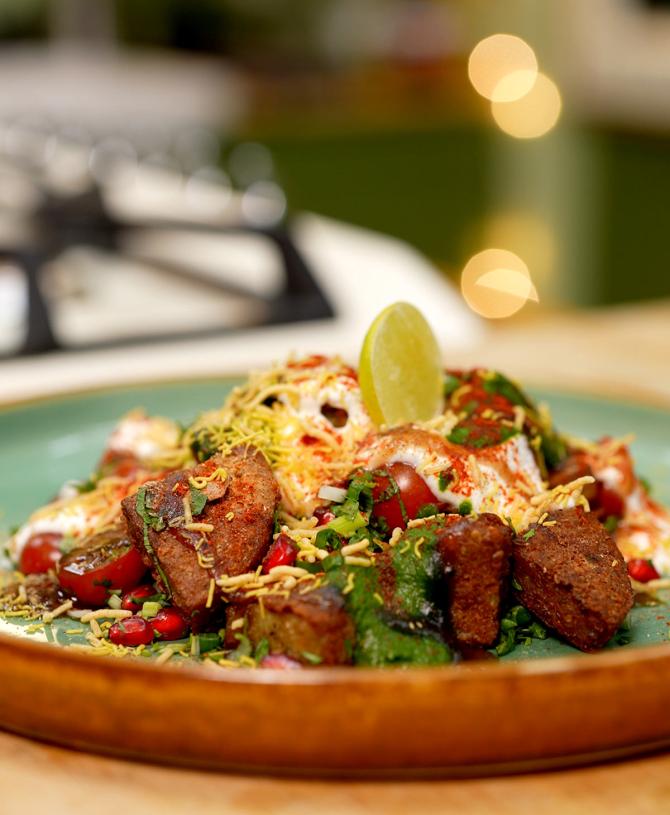 Millet Chaat
Serves: 2
Ingredients
For the green chutney
Handful green dhania or coriander or cilantro, roughly chopped
Handful pudina or mint leaves
2 green chillies, chopped
½-inch piece ginger
3-4 garlic pods
1 tbsp lemon juice
Pinch sugar
Salt to taste, around ½ tsp
1-2 ice cubes
For the chaat
5-6 fried millet pattices or cutlets, cut into pieces (please see the note below)
200 gm cherry tomatoes, halved
150 gm spring onions, chopped
Handful green dhania or coriander or cilantro, chopped
Handful fresh pudina or mint, chopped
¼ cup anaar dana or pomegranate pods or arils
Wedges of neebu or lime
1 cup dahi or yoghurt
1 tsp sugar
¼ tsp red chilly powder
½ tsp chaat masala
2-3 tbsp green chutney (recipe above)
2-3 tbsp imli or tamarind chutney
Handful sev
Salt to taste, around ½ tsp
Method
For the green chutney
Blend the chopped coriander, mint leaves, the green chillies, ginger, garlic in a mixer.
Drop in the ice cubes into the blender/mixer jar and grind again (ice helps the chutney retain its green colour).
Add the salt, sugar, lemon juice.
Blend again until you get a smooth green chutney.
Keep aside.
For the chaat
Whip the yoghurt and the sugar in a bowl until smooth.
Keep aside.
In another bowl, combine the cherry tomatoes, spring onions, coriander, mint, pomegranate arils.
Add the pattice pieces and toss to combine.
Drizzle some sweet yogurt over it and top it with the green chutney and the tamarind chutney.
Serve with a sprinkling of salt, red chilly powder, chaat masala, a squeeze of lime and top with crunchy sev.
Editor's Note: Frozen millet patties/pattices, available with online grocers and grocery delivering apps, can be deep fried or made in the air fryer. Else, to make them from scratch, using Bethica Das' recipe for Foxtail Millet Cutlets.
For a vegan version of this chaat recipe use vegan yoghurt.
For a Jain take on Chef Vicky's millet chaat, do not add garlic to the chutney and use a pinch of saunth or dried ginger powder instead of fresh ginger. While assembling the chaat, use only the greens of the spring onions.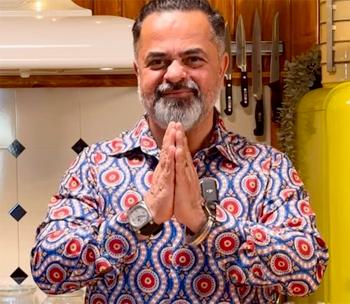 Chef Vicky Ratnani is an author, celebrity chef and culinary consultant. He hosts the cooking show Vicky Goes Veg on NDTV.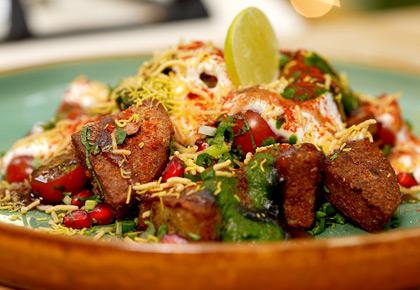 Source: Read Full Article