'Students of Tier-II and Tier III engineering colleges in the south may find 2023 to be one of the toughest years for getting jobs.'
Abhishek Jadhav (name changed), a postgraduate student in computer science in San Diego, California, is worried about his future.
A job crunch and layoffs in the US technology sector have created a sense of anxiety that he shares with many of his fellow students.
"I hoped to get into a dream company after my masters. Now, there is only one priority — finding a job before I graduate," he says.
For immigrant students like him, finding an internship has also become tough.
"This wasn't the case last year. I cannot afford to return to India as with the salary there, it would take years to pay off my student loan," says Jadhav, whose family has taken a hefty loan with their home as collateral so that he can pursue a masters degree in the US.
Back home in India too, students waiting for the placement season at campuses are facing uncertainty as the Indian information technology services players that hire in bulk are skipping the exercise this time.
"'Jo bhi mile, woh le lo (take whatever job you get)' is what we have been told by our placement cells," says Paras Khilosiya, a fourth-year engineering student.
Though placements are usually over by October-November, Khilosiya says that this time, it may extend to the first quarter of the next year due to repeated delays.
"Big companies like TCS and Infosys are not on campus. Most of my friends are planning to go for higher studies or look for off-campus placement opportunities," he says.
According to industry sources, Accenture, which has a mandate to hire 18,000 students from campuses, has barely selected 3,000 to 3,500 students in its first round of placements.
Colleges that Business Standard spoke to admitted that there was a slowdown in placements.
Sanjeeb Biswal, manager, Centre of Industry Academia Partnership at Maharashtra Institute of Technology, Pune, says, "Last year, we had placed over 100 students by now. This time, those who were supposed to join by July 2023 have not got any communication on onboarding."
Though the institute had reached out to 100-odd companies, only 25 had confirmed their participation, he adds.
Shitalkumar Rawandale, president, Maharashtra Association of Training and Placement Officers, and dean, Industry Institute Interaction Placements and training placement officer, Pimpri-Chinchwad Education Trust-NUTAN Group), agrees that the placement has been slow this year.
The trust, which has four engineering colleges in Pune, has placed more than 600 out of its 1,500 students this year.
Rawandale says that companies will scout for talent this year too, but there is no clarity as to when that will happen.
"The HR heads advised us to not have salary restrictions this year. We worked with 100-plus companies for the placement season this time, but last year there were over 125 companies around the same time," he adds.
Sanjay Dhaygude, training and placement officer at the Walchand College of Engineering in Sangli, says that companies this year are eyeing top colleges and avoiding Tier-II and Tier-III institutes.
"Major recruiters are very cautious. Infosys did not visit us last year."
Dhaygude says that out of 110 students in the institute's computer science department, close to 60 have already been placed.
In IT, around 40 out of 73 have found jobs. But last year, the number was slightly higher.
"Computer science and IT placements were better than core engineering streams like mechanical and electrical. This year, there is a reversal in trends," he says.
A similar scenario is playing out in institutes in North India. An official with a private university in Noida, Uttar Pradesh, says, "As of now, top brands including Infosys, HCLTech and Capgemini have not come to campuses."
Because of the uncertainty, startups, which are not favoured by most tech institutes because of the frequent mass layoffs, are also finding a place at the hiring table.
"Previously, startups and small companies were allowed only after Day 1. But this year, we are inviting startups as well," says the official.
Sachin Alug, CEO at talent solutions firm NLB Services, says that IT employers, touted as the most liberal head-hunters on campuses, have withdrawn from the field this year.
"Students of Tier-II and Tier III engineering colleges in the south may find 2023 to be one of the toughest years for getting jobs," says Alug.
"Engineering colleges have reported a drop in campus placement offers by at least 20 per cent this year compared to 2022."
QUESTIONS ABOUT CAREER? ASK rediffGURUS!
Adding to the gloom is an unusual question mark over students graduating in 2024. They are part of the so-called 'Covid batch', who have spent a large chunk of their academic years at home.
"If a particular company hired 30 students last year, this year the number has gone down to only four or five. The performance of students is also causing some discomfort," says a training and placement officer on the condition of anonymity.
The Covid effect has been real.
"When we started classes online, there was no interaction with other students. Those who had an idea about programming picked it up soon, and the rest fell behind," says Nikita Deshpande, a fourth-year student of information technology.
"Eventually, most of us relied on YouTube, Udemy, Coursera and other learning platforms to hone our skills," she adds.
Firms have also made their selection process much more stringent this year.
Anjani Bhatnagar, deputy director, Amity Technical Placement Centre, says that while the hiring numbers have gone down, companies have also raised the bar on selection.
"Usually, 60 per cent is the cut-off for performance in aptitude tests or the interview round. But this time, companies have raised it to 85 per cent."
However, many believe that the slowdown is temporary.
Sunil C, CEO of staffing firm TeamLease Digital, observes that students in the class of 2023 saw a discernible shift in hiring dynamics and pay parity.
Despite a dwindling of traditional IT companies on campus, recruitment for operational and functional divisions have risen dramatically.
"About a decade ago, 90 per cent of hiring focussed on premium colleges like the IITs.
"Today, only a few large organisations are still inclined towards the premium places, while a majority favours Tier-II and -III colleges," he adds, explaining that they are doing this to ensure greater diversity of talent.
The fear of a tech job recession is palpable among graduate students. Engineering aspirants in schools, on the other hand, are relatively unconcerned so far.
At FIITJEE coaching institute in New Delhi, the rush of students is as strong as ever.
Vinod Agrawal, who heads a branch, says: "Engineering colleges are also aware of some kind of saturation in IT, so parallel branches and courses have been created in recent years.
"The number of seats in IITs and National Institutes of Technology is increasing. Besides coaching, we counsel students about the importance of newer courses, too."
For students, core IT remains a dream pursuit.
Aanvi Jha, a Class 12 student, is following in the footsteps of her elder sister who works with Microsoft.
"I keep hearing from her that layoffs are happening. It is scary, but people find a way," she says.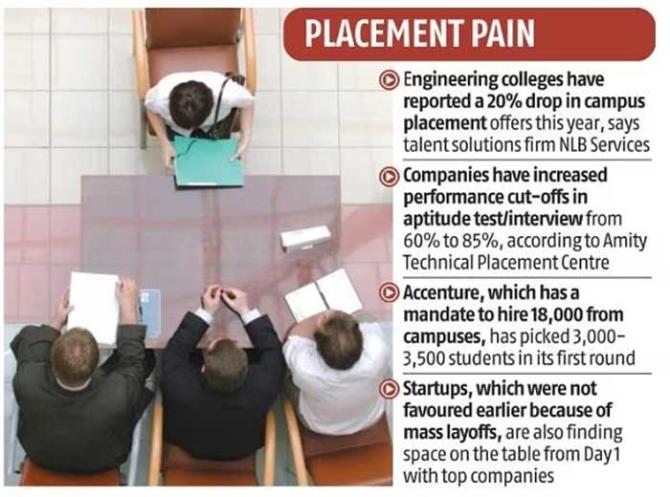 Feature Presentation: Ashish Narsale/Rediff.com
Source: Read Full Article