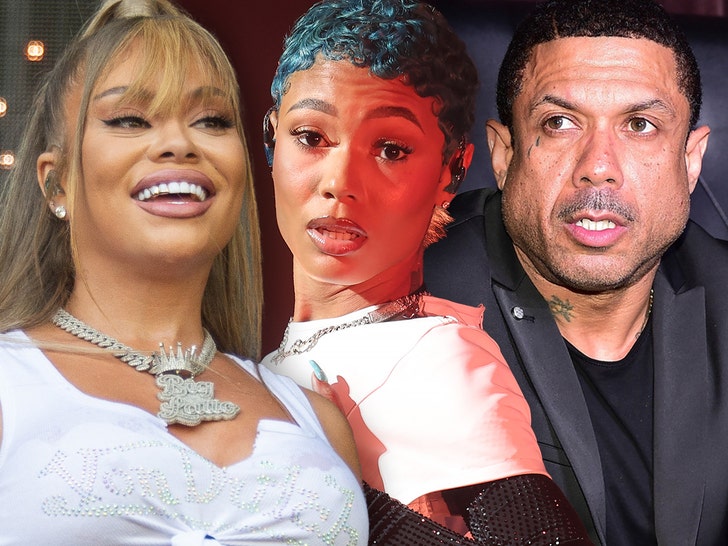 12:50 PM PT — Coi Leray's reaction over Latto's latest track is still up in the air but Benzino is absolutely loving the fact his name is being used in a next-gen rap song!!!
Waiting for your permission to load the Instagram Media.
The veteran rapper shared the soundbite he's mentioned on — neck diss and all — on Friday, which he feels signifies his undying relevance!!!
Not sure that's what Latto was going for … but 2 points for Zino with the clever PR spin.
Latto is moving up Coi Leray's family tree for more song source material … using her father, Benzino, for a nifty lil punch line about his neck!!!
Young Nudy dropped off his "Peaches & Eggplants (Remix)" on Friday, recruiting estrogen energy that's been dominating hip hop as of late with Latto and Sexyy Red.
The song details the ins and outs of sexual encounters and Latto got into a name-drop bag on her verse to describe hers … rapping, "He don't eat p****, he gots to go/Give me that neck like Benzino/Give me that neck like, "Where it go?"
Benzino, a devout gym rat, has been ribbed online for years over his head's muscular foundation base … and fans weren't oblivious to Latto's shade!!!
Coi used Latto's name on the hook of her recent single "Isabel Marant" where she crooned, "Hop up on that couch and roll up Latto out the bag."
Of course, Latto fired the first shot when was smoking on blunts as big as Coi on her "Put It on Da Floor" track back in April … and clearly she's up for sending more neckativity in the family's direction!!!
Originally Published — 11:29 AM PT
Source: Read Full Article