Kick off your Diwali party with an appetising dish of potato shells stuffed with the yumminess of paneer, veggies and spices.
Chef Roshan Tadadikar's Aloo Khazana can be served as a platter of party nibbles.
They make a great tiffin for your kids as well. Just remember to grate some cheese on the stuffed potatoes before they are baked, and your children will love the recipe.
Chef Roshan has worked for the Raffles hotel group in Udaipur and the Marriott in Bhopal and Goa. He believes in conscious cuisine and calls himself a sustainability chef.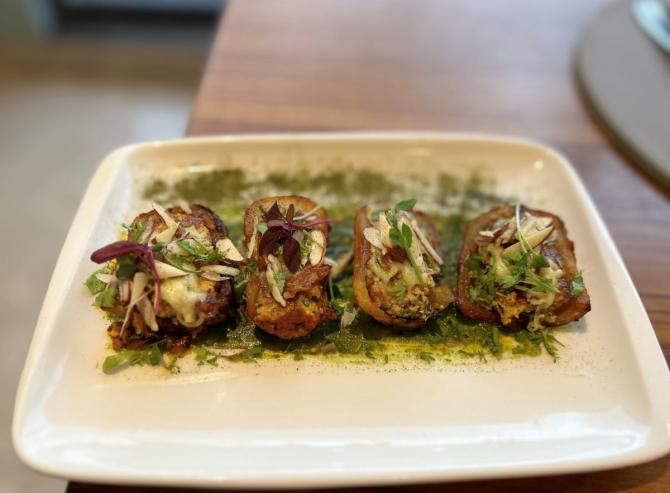 Aloo Khazana
Servings: 8
Ingredients
4 large potatoes, choose similar-sized ones
½ cup crumbled paneer or cottage cheese
¼ cup grated carrots
¼ cup green peas, boiled, mashed
2 green chillies, finely chopped, adjust to your spice preference
½ tsp jeera or cumin seeds
½ tsp garam masala
½ tsp red chilly powder or to taste
½ tsp jeera or cumin powder
½ tsp dhania or coriander powder
1 tbsp vegetable oil
Salt to taste, around 1 tsp
Fresh green dhania or coriander or cilantro leaves for garnish
Water
2-3 tbsp butter or ghee or oil
Microgreens, to garnish
Slivered almonds, to garnish
Green chutney, to serve
Method
Boil the potatoes in a saucepan over medium-high heat until partially cooked but still firm.
Cool slightly.
Peel and keep aside.
Cut a small slice from one side of each potato to create a flat base for them to stand without rolling while serving.
Carefully scoop out the centre of each potato, leaving a thick shell around the edges.
Mash the scooped-out portion of the potato and reserve for the stuffing.
In a kadhai or frying pan, heat the vegetable oil over medium heat.
Add the cumin seeds and fry for less than a minute.
Add the chopped green chillies, grated carrots, mashed peas, and the reserved scooped-out potato mash.
Saute for a few minutes until the mixture is well combined.
Add the crumbled paneer and the garam masala, red chilly powder, cumin powder, coriander powder, salt.
Mix and cook for a few more minutes.
Keep aside.
Stuff each potato with the prepared filling, pressing gently to fill the entire cavity.
In a heavy-bottomed frying pan, over low heat, warm the butter or ghee.
Carefully place the stuffed potatoes in the pan, cover and let cook onver low heat for 10-15 minutes to let the flavours blend and the stuffed potatoes absorb the curry flavors and get a light crust.
Make sure the potatoes don't burn — keep the heat really low and sprinkle some water to ensure the potatoes don't stick to the pan.
Alternately bake them in the oven for 10-15 minutes or until cooked thoroughly.
Once the potatoes are fully cooked, tender, slightly crisp, take off heat,
Garnish with fresh coriander leaves and a few microgreens.
To serve, spread 2 tbsp of green chutney on a plate (please see the pic above).
Place the stuffed potatoes and garnish with the slivered almonds.
Serve hot.
Editor's Note: Make your own green chutney. Use Lahu Kapduskar's recipe for Green Mint Chutney.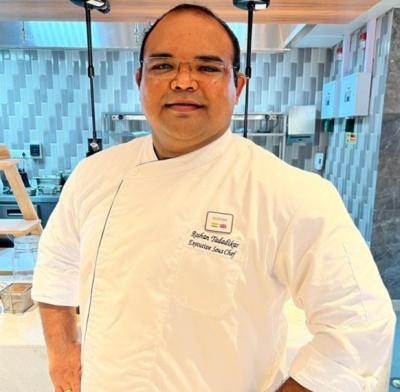 Roshan Tadadikar is the executive chef, Novotel Mumbai International Airport.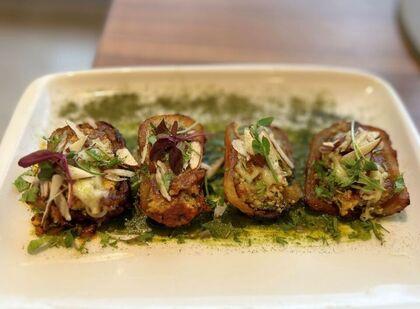 Source: Read Full Article