A Bengali-style mutton curry, Kosha Mangsho gets its distinctive flavour from pungent garam masala spices, yoghurt and the mustard oil it is cooked in.
Slow-cooked, this delicious preparation by Joseph Manavalan holds a special place in every Bengali's heart. It's made during Durga Puja and for other special occasions and can be served with luchis.
Prepare it in an iron kadhai or wok to get that special darkish colour.
Bengaluru-based Licious co-founder Manavalan, whose LinkedIn profile is sub-titled with the online meat provider's motto, 'Born to meat', began his career 37 years ago at Kolkata's Oberoi Grand.
Both a chef and an MBA, needless to say he loves to cook. He probably learned this recipe during his Cal days at this iconic hotel on main thoroughfare Chowringhee.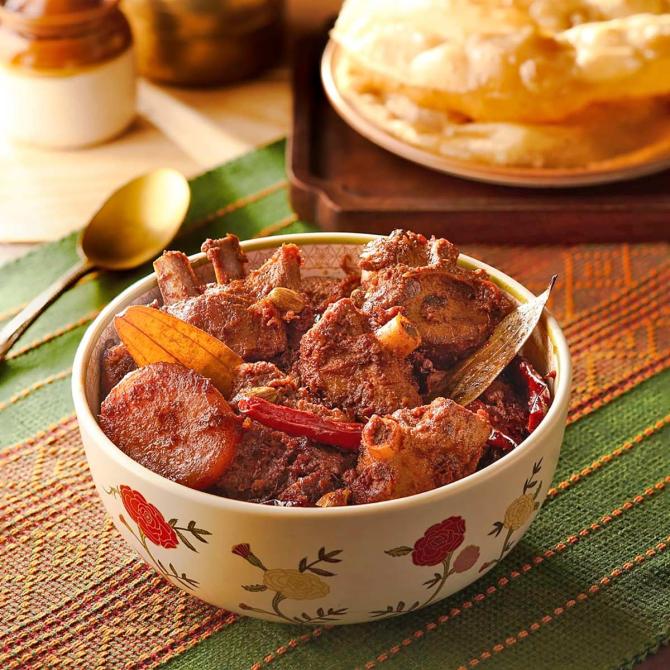 Kosha Mangsho
Serves: 2-3
Ingredients
1 kg bone-in mutton, ie the shoulder meat with the bone, cut into 1-inch pieces
1 large potato, peeled, cut into big circular pieces
¾ cup thick dahi or yoghurt
1½ tbsp ginger paste
2 tbsp garlic paste
5 tbsp mustard oil
1 tsp jeera or cumin seeds
2 tej patta or bay leaves
1 tsp lavang or cloves
2-3 bara elaichi or black cardamom
1-inch stick dalcheeni or cinnamon
3-4 green elaichi or cardamom
1 tsp saunf or fennel seeds
600 gm onions, sliced
1 tsp haldi or turmeric powder
2 tbsp garam masala
3 tsp dhania or coriander powder
2 tbsp chilly powder
3 tbsp jeera or cumin powder
5 green chillies, slit
2 tsp chopped ginger
2 tsp chopped garlic
3-4 dried red chillies
2 tsp ghee
Salt to taste, around 2 tsp
Water
Method
Marinate the meat with the ginger paste, garlic paste, 2 tsp of the mustard oil, 2-3 tbsp of the yoghurt and mix well.
Refrigerate for at least 8 hours.
In a heavy-bottomed iron kadhai or large saucepan, add the remaining mustard oil.
Saute the sliced onions.
Add the dried red chillies.
While the onions are frying, blend the chopped ginger, garlic, green chillies to a coarse paste.
Add the garlic-ginger-green chilly paste to the onions.
Saute till golden brown.
Add the whole spices.
Make a spice paste by mixing the garam masala powder, haldi powder, coriander powder, chilly powder, cumin powder with a little water.
Add it to the onion-ginger-garlic-green chilly mixture and stir.
Add the marinated mutton.
Cover and cook for 90 minutes over slow heat.
Keep checking the mutton to ensure it doesn't burn.
Keep sprinkling small quantities of water to prevent it from sticking to the bottom of the saucepan.
Whip up the remaining yoghurt and add it in.
Add the chopped potato.
Let the meat continue cooking until the water evaporates.
Season with salt.
Continue to slow-cook until the mutton is tender.
Take off heat.
Add the ghee.
Stir gently.
Serve hot with luchis.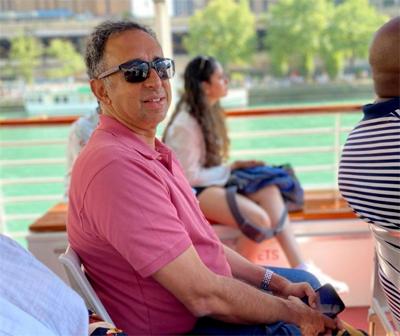 Joseph Manavalan is the co-founder and chief innovation officer, Licious.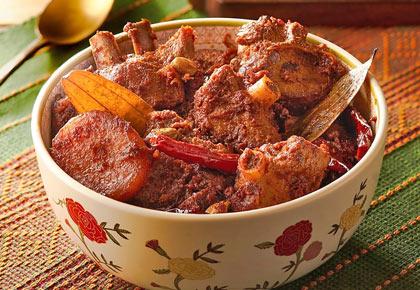 Source: Read Full Article