The banking system liquidity bounced back to surplus mode after three weeks, the Reserve Bank of India (RBI) data showed.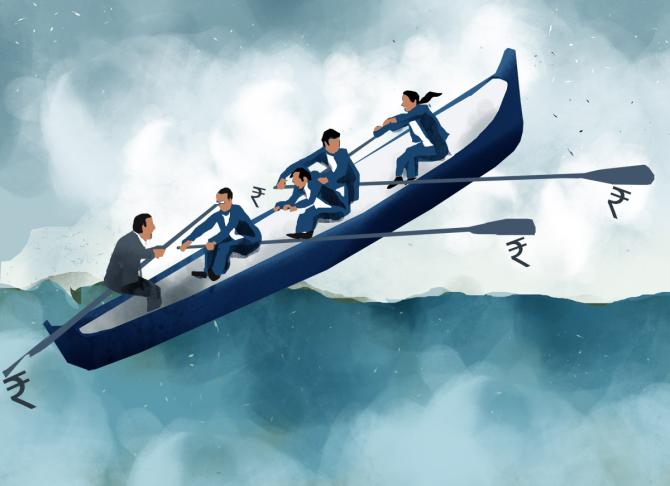 This was due to government spending, according to dealers.
The liquidity situation could further ease with the disbursement of the last tranche of incremental cash reserve ratio (I-CRR) worth Rs 50,000 crore on Saturday.
As the liquidity improved, bond market participants expected the RBI to announce open market operation (OMO) of bond sales to suck out the excess.
The market expects the central bank to sell bonds worth between Rs 10,000 crore and Rs 15,000 crore in the auction.
Consequently, traders squared off their positions by the end of the trade, leading to the hardening of the yields.
The yield on the benchmark 10-year government bond settled at 7.38 per cent on Monday, against 7.34 per cent on Friday.
The liquidity improved because of the government spending, and rollback of I-CRR, a dealer at a primary dealers said.
As the liquidity is in surplus now, there are expectations the RBI will come up with a notification on OMO.
That's why the yields rose by the end of the day, he said.
Banks parked Rs 2,760 crore on Friday, according to the RBI data.
The lenders parked Rs 5,390 crore and Rs 9,071 crore on Saturday and Sunday, respectively.
RBI Governor Shaktikanta Das had on Friday said the central bank might conduct OMOs to mop up excess liquidity.
Going forward, while remaining nimble, we may have to consider OMO sales to manage liquidity, consistent with the stance of monetary policy.
The timing and quantum of such operations will depend on the evolving liquidity conditions, Das had said.
The rate-setting panel has identified high inflation as a major risk to macroeconomic stability and sustainable growth, he had said.
Accordingly, the focus remains on aligning inflation to the 4 per cent target on a durable basis.
Market expects the surplus liquidity to persist for the next two weeks before the Goods and Service tax outflows starting around October 20.
The liquidity should remain positive for two weeks, and then we have GST outflows from 19-20 October, it will again move to deficit mode, a dealer at another primary dealership said.
The deficit liquidity neared Rs 1.47 trillion on September 19, the highest since January 29, 2020, when the banking system liquidity deficit went up to Rs 3 trillion.
The liquidity went into deficit mode on August 21 for the first time in the current financial year.
Source: Read Full Article