Consumption-related stocks, such as hotels, and quick service restaurants (QSRs), have been hitting the ball out of the park ahead.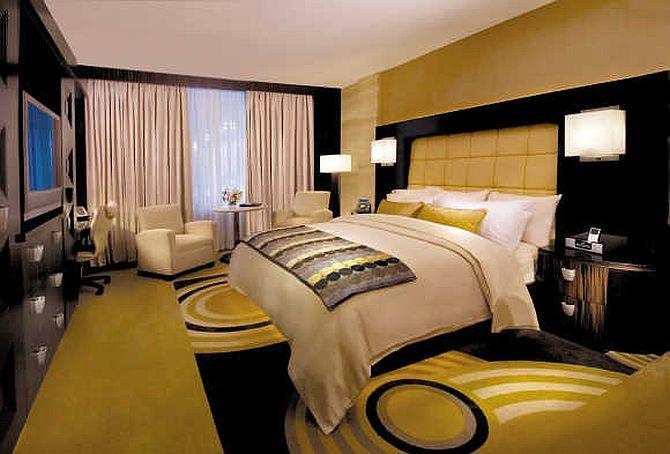 On the other hand, the Miss World Pageant scheduled for later this year in New Delhi, too, could provide some tailwind to these stocks, especially hotels and aviation.
However, analysts suggest investors put their best foot forward and buy these counters only on a decline given the recent rally and economic headwinds.
"We believe India's hotel industry is poised for robust growth in the second half of the current fiscal (H2-FY24) with various events, including the Cricket World Cup, Miss World Pageant, and recovery in foreign tourist arrival (FTAs), supporting the demand momentum," said Shobit Singhal, research analyst at Anand Rathi Institutional Equities.
Meanwhile at the bourses, shares of HLV Group, Chalet Hotels, Lemon Tree Hotels, The Indian Hotels Company, Taj GVK Hotels, and Royal Orchids from the hotel industry have surged in the range of 12 per cent to 154 per cent, so far, this financial year (FY24), while those of travel related companies like IndiGo, and Indian Railway Catering and Tourism Corporation (IRCTC) have jumped up to 25 per cent, but SpiceJet has fallen around 9 per cent, ACE Equity data shows.
Those from the quick service restaurant (QSR) segment, including Barbeque Nation Hospitality, Restaurant Brands Asia, Westlife Foodworld have risen up to 40 per cent during the period.
By comparison, the Nifty50 and Nifty500 indices have gained 12 per cent and 17.8 per cent, respectively.
Buy selectively
Among the lot, analysts remain bullish on the hospitality sector from a long-term perspective as limited supply, coupled with a pick-up in corporate and leisure travel demand, is expected to inflate average room rate (ARR) of hotels.
In the immediate future, the hospitality sector, analysts believe, is entering its seasonally best October-December quarter which sees year-end holidays, MICE (meetings, incentives, conferences, and exhibitions) and wedding period, and influx of foreign tourists in India.
Occupancies and room rates have, historically, peaked in Q3, which makes H2 of any FY better than H1. This time, Q3-FY24 will witness the World Cup and festive season simultaneously, a first in Indian history.
During the previous boom period in the hospitality sector, between 2004-2008, the average room rate (ARR) grew at a compounded annual growth rate (CAGR) of 21 per cent.
Over the next three years, Singhal of Anand Rathi expects ARR to grow at a CAGR of 10-12 per cent amid a 10-per cent year-on-year (Y-o-Y) growth in demand.
According to a Jefferies report, average rates for the World Cup match days are up by 150 per cent for select hotels compared to the week prior to match day with some rates up to the extent of 13x.
As a strategy, they remain bullish on Indian Hotels, Lemon Tree, and Chalet Hotels and suggest buying them on a dip.
Headwinds for the airlines and QSR sectors, analysts believe, could outweigh the positives in the form of a demand uptick due to these events.
Surging oil prices that have moved up 19 per cent in the last three months, they said, could be the show stopper, they suggest.
"While the domestic demand for airlines took off due to the festive season and World Cup, potential challenges should not be overlooked.
"Crude oil prices have reached $95 per barrel, which is the highest level this year.
"If this elevated price persists, it could potentially impact airlines' margin profile," cautioned Parul Rao, research analyst, SAMCO Securities.
On October 1, aviation turbine fuel (ATF) prices for domestic airlines were hiked by 5 per cent.
Jet fuel prices have risen by over 32 per cent since June, and are at the highest level since November 2022.
Coupled with pilot shortage and limited capacity, Rao advises investors to stay away from airline stocks.
With regard to QSRs, analysts believe margins for the pack would improve in Q3 than Q2 of FY24 as inflation would have likely peaked by then.
Varun Beverages, United Spirits, and Zomato are the top bets of analysts at Motilal Oswal Financial Services (MOFSL) to play the consumption theme.
Disclaimer: This article is meant for information purposes only. This article and information do not constitute a distribution, an endorsement, an investment advice, an offer to buy or sell or the solicitation of an offer to buy or sell any securities/schemes or any other financial products/investment products mentioned in this article to influence the opinion or behaviour of the investors/recipients.
Any use of the information/any investment and investment related decisions of the investors/recipients are at their sole discretion and risk. Any advice herein is made on a general basis and does not take into account the specific investment objectives of the specific person or group of persons. Opinions expressed herein are subject to change without notice.
Source: Read Full Article