The India exposure of the Emerging India Focus Fund (EIFF) and EM Resurgent Fund (EMRF) — the two funds mentioned in a report by the Organized Crime and Corruption Reporting Project (OCCRP), a network of investigative journalists — is estimated to have decreased from nearly half a billion US dollars over six years ago to zero at present.
Data from Capitaline shows that at its peak, EIFF held equity stakes ranging between 1.89 per cent and 3.39 per cent in four Adani Group companies — Adani Energy Solutions (formerly Adani Transmission), Adani Enterprises, Adani Ports and Special Economic Zone, and Adani Power.
Similarly, EMRF held stakes ranging from 1.16 per cent to 2.17 per cent at its peak in the same four companies.
At one point in March 2017, the combined value of EIFF and EMRF investments in Adani Group stock was $430 million, according to OCCRP's calculations.
'These investments resulted in significant profits, netting hundreds of millions over the years as EIFF and EMRF repeatedly bought Adani stock low and sold it high,' alleged OCCRP in its report.
Capitaline data shows that these two funds ceased to hold Adani Group stocks after 2018.
The OCCRP report alleges that at one point, EIFF and EMRF held free-floating shares ranging from 8 per cent to nearly 14 per cent in the four Adani Group companies.
The report further alleges that a large percentage of the invested money came from two foreign investors, Chang Chung-Ling and Nasser Ali Shaban Ahli, both of whom have been directors of Adani-linked companies.
EIFF and EMRF could not be reached for comments.
However, 360 ONE Asset Management (Mauritius), the investment manager for both funds, stated that both funds are fully compliant broad-based funds registered with the Financial Services Commission of Mauritius.
'Neither Adani Group nor any of the individuals mentioned in the article are investors in either of these two funds. As of date, these funds have zero investments in any of the shares of Adani Group. In the past, among many other portfolio investments, the funds had investments in shares of Adani Group companies, all of which were sold in 2018,' said 360 ONE WAM (formerly known as IIFL Wealth Management) in a stock exchange notification.
Tracking the money flow
The Organized Crime and Corruption Reporting Project (OCCRP) has alleged that two associates of Vinod Adani, Adani Group founder Gautam Adani's brother, were used as fronts to bypass the 25 per cent minimum public shareholding norms to amass large positions in Adani Group listed firms.
OCCRP identifies Nasser Ali Shaban Ahli from the United Arab Emirates and Chang Chung-Ling from Taiwan as sole beneficiaries of offshore companies through which money flowed into Adani Group stocks.
Here is the flow chart explaining the alleged flow of money: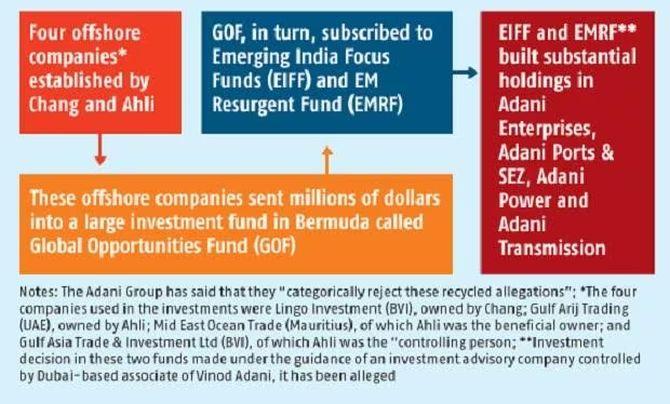 Feature Presentation: Aslam Hunani/Rediff.com
Source: Read Full Article