The limited availability of flexible (flex)-fuel vehicles in the Indian market and the slow rollout of ethanol-blended petrol by oil-marketing companies (OMCs) remain major obstacles to achieving widespread use of biofuels in the transportation sector in India.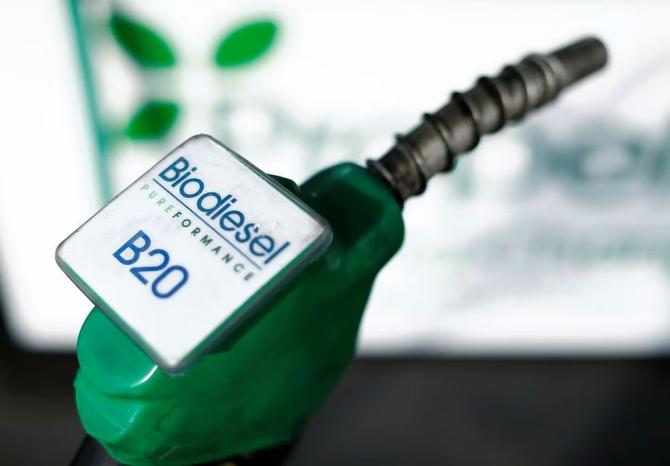 Recently, two Union ministers have emphasised India's biofuel potential, arguing that it has the capacity and potential to lead a transition towards widespread biofuel adoption.
Road Transport Minister Nitin Gadkari signalled that this transition is well underway and urged car manufacturers to quickly adapt and introduce new biofuel-run vehicles, lest the government resort to taxing diesel vehicles.
Following a public outcry and a plunge in automotive stocks, he clarified that there were no such plans.
Meanwhile, Minister of Petroleum and Natural Gas Hardeep Singh Puri said that India would now take the lead in global policymaking in the sector by setting standards and deploying enabling technology worldwide, followed by the launch of the Global Biofuel Alliance.
A record 171.2 billion litres of biofuels were procured globally in 2022, with India contributing just 2.7 per cent, or 4.6 billion litres, according to the International Energy Agency (IEA).
It also notes the country is the third-largest producer of ethanol, after the US and Brazil.
Few vehicles, fewer pumps
Toyota stands as the sole automaker to in­troduce a vehicle with a flex-fuel engine — the Corolla Altis — in the Indian market to date. Last month, the company also unveiled the Innova Hycross, manufactured in India, which is capable of operating on 100 per cent ethanol.
Since 2018, only 32 fully ethanol vehicles have been officially registered in the country, according to data from the VAHAN portal of the Ministry of Road Transport and Highways.
However, the registered number of vehicles running on petrol/ethanol blends was 194,214, almost all of which have been sold since January.
Among these, only three were four-wheelers, with the vast majority being two-wheelers.
The success of the two-wheeler segment can be attributed to companies such as TVS Motor Company, Yamaha Motor India, Bajaj Auto, and Hero MotoCorp, which have begun manufacturing their newly launched models to run on E20 petrol (petrol blended with 20 per cent ethanol) since the start of this year.
On the other hand, a few four-wheeler manufacturers claim that all their Bharat Stage-VI vehicles, which hit the market in 2021, will be E20-compliant.
However, the government's stricter norms have hinted that automakers will have to come up with flex-fuel vehicles sooner rather than later.
Puri recently stressed that when biofuel blends are being used across the world, there is no reason a Japanese or German car running in Brazil will not run in India.
In Brazil, 80 per cent of light vehicles carry flex-fuel engines.
Despite companies such as Maruti Suzuki India, Honda Cars India, Mahindra & Mahindra, and Tata Motors declaring the­ir intentions to launch flex-fuel vehicles wit­hin the next two to three years, it appears OMCs have been slow to react by making the fuel available.
OMCs purchase a range of feedstocks, from cane molasses and juice to rice, damaged grains, and maize, from sugar mills and farmers and refine the 99.9 per cent pure alcohol that is ethanol, which can be blended with petrol.
Despite initiating a pilot programme to blend up to 5 per cent ethanol in petrol way back in 2001, India had reached only 1.53 per cent nationwide blending in 2013-14.
A concerted push by the government against reluctant OMCs, increased funding, and improved technology raised this level to 10.17 per cent in July 2022.
Subsequently, the 2018 National Policy on Biofuels was amended by the Ministry of Petroleum and Natural Gas to advance the 20 per cent blending deadline from 2030 to 2025.
Blending stood at 11.7 per cent in June and is on track to reach 12 per cent by November, according to ministry officials.
However, the sought-after E20 petrol, a key component of the blending target, remains elusive.
Despite incremental rollouts, E20 petrol was available in only 1,900 of the 72,079 fuel stations across the country as of early August, the ministry has informed Parliament.
OMCs have complained that ethanol feedstock supply remains unpredictable due to the vagaries of the monsoon, resulting in major variations in the output of sugarcane, a water-intensive crop.
Increasing production a challenge
According to the NITI Aayog's 'Road map for Ethanol Blending in India 2020-2025' report, India will need to increase ethanol production capacity from the expected 3.3 billion litres (in 2020–2021) to at least 10.2 billion litres (5.5 billion litres from sugarcane and 4.7 billion litres from grains) by 2025.
Experts believe that the nation's blending targets may be subject to adjustment based on the demand for food consumption.
Additionally, ethanol engines' susceptibility to rusting and decreased fuel efficiency present a significant obstacle to their widespread adoption.
"High ethanol penetration faces challenges due to fluctuating sugarcane and raw material production and consumption in India.
"In addition, Indian consumers prioritise efficiency and durability, qualities in which ethanol engines fall short compared to gasoline engines," said Puneet Gupta, director, S&P Global.
Meanwhile, the government is struggling to meet its other target, that of a 5 per cent nationwide blending of biodiesel in diesel sales by 2030.
Widely used in Europe, biodiesel is traditionally manufactured from vegetable oils, animal fats, or recycled restaurant grease.
However, large-scale adoption has fared poorly in the country owing to the very limited availability of biodiesel feedstock.
This has led to both Bharat Petroleum Corporation and Hindustan Petroleum Corporation falling back on ethanol as the prime candidate for blending in diesel, ministry officials said.
In 2022, major biofuel markets reduced ethanol blending targets due to price increases.
The IEA decreased its year-on-year growth forecast by 25 per cent compared to 2021, primarily because of shifts in prices and markets in Brazil, Finland, and Sweden, accounting for 80 per cent of the adjustment.
Source: Read Full Article