'People coming from the slightly upper section of Palestinian society want to fight and I see vengeance in their eyes.'
Nibedita Sen spent three years travelling across Israel, Palestine, Egypt, Syria and other West Asian countries as an independent defence correspondent and a marketing communicator.
Nibedita, who returned from Israel in May 2023, tells Prasanna D Zore/Rediff.com, "What's terrorism for others is patriotism for Palestinians."
Part 1 of the Interview: 'Nobody is scared in Israel'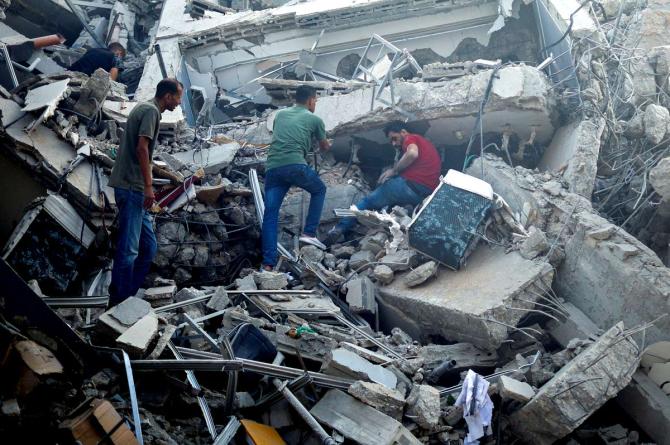 Tell us about your meetings with ordinary Palestinians, their daily lives and how they look at the Israelis…
I started a community of travellers in Israel called Happiness Activist through which not only did we travel (through many parts of Palestine) but also promoted the cause of mental health.
Hence I initiated attending old age homes in Israel and Palestine for spending time with people. That was my opening move in Palestine.
I remember the first day very well as I was dressed in a sari and got questioned five to seven times by normal people if I was from 'Hodu'. The word 'Hodu' comes from Hindu. India is known as Hodu in Palestine.
In fact, Palestine is pronounced as Balestine. They don't have 'H' and 'P' in their dictionary.
I met a cute little girl who kept admiring me. I didn't notice her. It was my husband who drew my attention to a red-cheeked girl and how she was staring at me. When I smiled at her, she shyly ran away.
Then I met people on the bus who enquired if I my husband was a Muslim because I made him wear a Punjabi pajama, traditional Bengali wear.
While crossing the road, a group of teenaged boys came forward and stopped by me to see if I was bleeding from my forehead. They mumbled as they weren't very fluent in English and I did not know how to speak Arabic.
I told them I wasn't bleeding and that was my sindoor.
It was fun strolling around and knowing people. They are also curious people just like us.
Did you get to speak with Palestinians whom you have known after Israel launched its offensive against the Hamas in Gaza?
Yes I work with them as a marketing communicator. I worked with a software company and later founded 'Happiness Activist' where I help Palestinians in establishing tourism in a better way in Palestine. I work with them closely.
I have friends who are primary school teachers turned taxi drivers, political tour guides, students and more.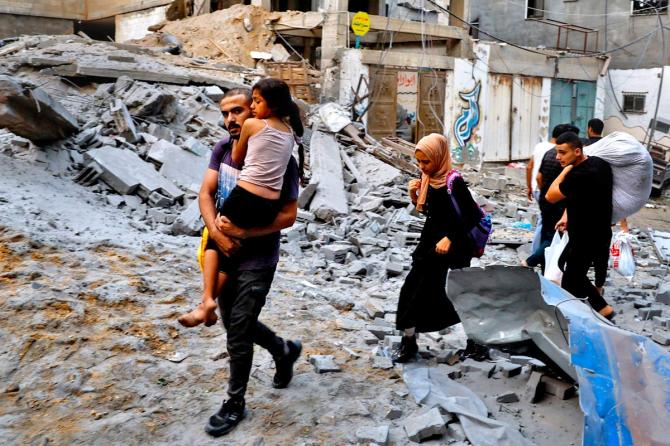 About the death and destruction in Palestine ever since Israeli bombing started in the Gaza…
They have two different kinds of opinions. People coming from the slightly upper section of the society are politically aware. They want to fight more and I see vengeance in their eyes.
Again, poor Palestinians who are anyway not helped by their government and also mistreated by the upper class are the ones who give me a different perspective. They want a solution to this.
They need good governance, good quality food, water, electricity and peace.
These are people who I personally find are rational and humble.
Personally, I feel these sections of people are too tired to fight anymore. Because of living in the border areas their lives that are at risk.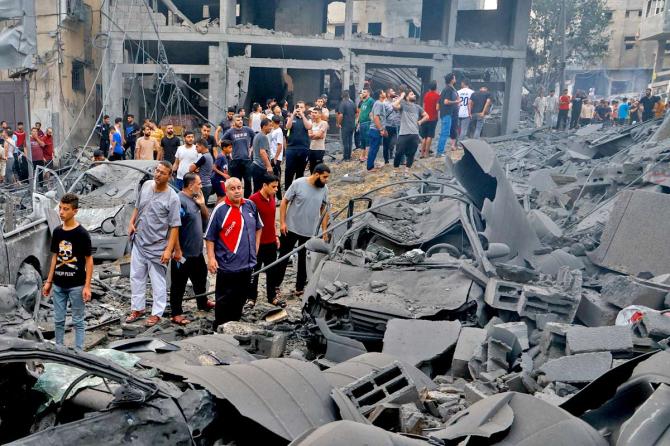 What kinds of tragedies are unfolding in Gaza? Do you have Palestinians sharing their plight with you, describing the mayhem and destruction wreaked upon them by the Israeli bombings?
Besides turmoil, the only tragic part is the number of constantly decreasing Christian population at the birthplace of Christ. I am connected to people near the border areas. Even though I went inside the country, I was not allowed to move freely everywhere, especially the centre of Gaza, even though I wanted to.
I do have videos bytes of Palestinian people, but they live near the borders and there's no sign of destruction as such. The place in Gaza that has rumbled is in the central part where there are banks, mosques, offices etc.
The videos circulated in the media are also the ones shared by the Israeli army because they click the footage of places they are bombing.
How do Palestinians look at Hamas? As saviours who will help them establish their national identity or a terrorist organisation that is pawning the interests of ordinary Palestinians for their idea of liberation and freedom of Palestine?
I have never thrown this direct question at them because they will not talk to me if I do. I took time to understand them.
What I understood from their behaviour is that they have no other option than supporting Hamas. Here by 'they' I mean the common people of Palestine, not the rich and powerful ones.
I got a chance to visit the Palestinian president's home. It is built in the shape of a ship. There the arms and ammunition are well exhibited. The windows are covered by sacks of sand to prevent any bullet entering their rooms.
An AK-47 is neatly kept beside the bed of every security personnel. It was a thrilling experience. They have a museum in the same building where their side of the story is well depicted.
Political tours in Palestine have this as the main viewpoint. Both activists and ordinary people want tourists to visit this place.
So, yes, what's terrorism for others is patriotism for Palestinians.
ISRAEL-GAZA: BATTLES FOR THE PROMISED LAND
Source: Read Full Article