'The India which was all about glamour and razzmatazz through which he could earn the trust of people of the other India, which was Bharat.'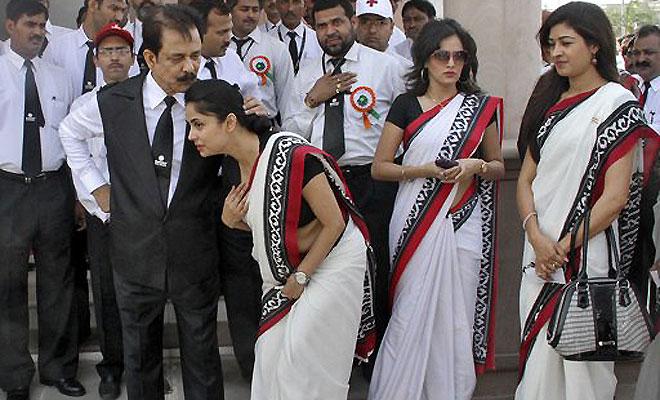 In February 2004, when Sahara chief Subrata Roy hosted his son Sushant's wedding in Lucknow, the who's who of India was present.
The top name on the guest list was then prime minister Atal Bihari Vajpayee; Roy's close friend movie superstar Amitabh Bachchan greeted guests stating that it was his family wedding.
When Bachchan went bankrupt after his company Amitabh Bachchan Corporation Limited defaulted on loan repayments due to losses, his bungalow in Mumbai's tony suburb of Juhu was to be auctioned.
Enter Subrata Roy who wrote a cheque and ensured that Bachchan continued to stay in his home.
'Sahara Shri', as Roy was called by his employees across businesses from airline to news channels to insurance, passed away on Monday, November 13, night, and journalist and author Tamal Bandyopadhyay speaks to Syed Firdaus Ashraf/Rediff.com on the enigma called Subrata Roy.
Bandyopadhyay had met Subrata Roy for his book, Sahara: The Untold Story in which he writes in detail about Roy's business empire.
Although Roy spoke to Bandyopadhyay for the book, he was so upset by the final outcome that he filed a Rs 200 crore lawsuit against its publication. Ultimately the two sides reached an out-of-court settlement, and the book was published with a rejoinder.
As the author of The Sahara Story, how do you recall Subrata Roy?
It was an investigative story on the group just to demystify.
This group, if I recollect correctly, had 4,769 business establishments and 16 verticals. And the Sahara group was always in the news, for right or wrong reasons. So, I thought a book must be written on the group.
It was out of curiosity.
Did you meet Roy?
Of course, I met him a few times. The first meeting was on his wedding anniversary. It was very interesting.
My impression about him was that he was a smart entrepreneur who was arbitraging between Bharat and India.
He was close to film stars, cricketers and the government of the day.
The India which was all about glamour and razzmatazz through which he could earn the trust of people of the other India, which was Bharat.
They were in awe of him even though his business was not a regulated entity.
His business model was different, an RNBC model (Residuary Non-Banking Company), and this Bharat was happy to put money in. This is how he built the trust, simply because of his proximity to India which stood for glamour, cricket and the politicians that they represented.
What was he like on a personal level?
He was a man with fine taste. The upholstery and the furniture in his house at Sahara City were of great taste.
You don't often see people with money to have such fine taste. I went to his Sahara City in Lucknow to meet him while doing research on my book.
You had a fallout with him for which you were dragged to court.
My book was an investigative book and meeting him was essential. As a journalist too if you are writing a newspaper report, you have to speak to the other side.
I had done my research for the book on the Sahara group through SEBI, ministry of corporate affairs, income tax and other relevant institutions, and had to do an interview with him which I got.
It was a frank and candid interview. I was introduced to his team too.
But when he saw the final product of my book he was disappointed. Probably, his expectation was different.
I did run my interview past him, but with the book he was disappointed.
To cut a long history short, even before the book was published he asked for a copy of the book which was sent to him by my publisher without my knowledge.
The provocation came after Business Today magazine published an extract of my book before its publication. He was upset and therefore he filed a suit of Rs 200 crore against my book.
He withdrew the case later. What happened?
It was a rare example at least in India that even before a book was published a case was filed against the author.
Sahara India was under the impression that I will buckle under pressure and withdraw its publication.
They felt I did not show Sahara India in the right light.
I did fight the case at the Calcutta high court too. Later, I was about to file a special petition in the Supreme Court. At that time Subrata Roy fighting on many fronts at that time probably wanted to close at least one of them. One fine morning I was asked by the house why were we fighting in court.
They then came to me for reconciliation. This discussion went for months at the Sahara hotel in Mumbai and finally we found a solution on how to come out of this and publish my book.
They told me that they will write a 'disclaimer' in my book saying that it is based on a wrong notion and the information is not full on the Sahara group. The book does not give a complete picture and they wanted to include all this in the disclaimer, which we agreed to carry in the book. That's how we reached an out-of-court settlement.
This is how the court case on my book was resolved. It was then published in 2014.
Only 4,000-plus depositors complained that they were cheated by the Sahara group. Where are the other depositors of Sahara?
When I interviewed Subrata Roy I realised he was one person who never wanted to be regulated. And what he did was, he shifted from one regulator to another regulator and then went to another regulator. Like we have the Reserve Bank of India, ministry of corporate affairs, SEBI etc as regulators.
Now, look at the history of Sahara India. The RNBC was born in 1978. He then established multiple organisations — hotels, airline, insurance, media house — and this is why I said 4,769 establishments.
The other company that you can see on the RNBC turf was the Peerless group. They fought against regulatory authorities in courts and lost. This is how they ended.
In Sahara's case too they went to the Allahabad high court and the Supreme Court, but in a different context — not challenging the RBI.
RBI persuaded him over a period of time that he must close the RNBC entity.
Sahara got exposed in a very different context as it was Sahara Prime City Limited which wanted to go for an IPO. It was one of the group companies of Sahara. It filed a draft red herring prospectus with SEBI and it was, if I am not mistaken, SEBI chairman C B Bhave who found that the OFCDs (Optional Fully Convertible Debentures) mentioned in the prospectus were not raised from the public as Sahara said. It was found that the money was of private entities, which was against SEBI norms.
And then the tussle started. SEBI asked for the details of 30 million investors of Sahara — which was the population of Malaysia at that time. Sahara kept delaying giving the information and when they gave it, they brought 127 trucks to SEBI office with the papers in thousands of containers. This was in September 2012.
And when SEBI started scrutinising the papers of Sahara from the 127 truck material, they found that Kalawati's name appeared 5,984 times. This clearly proved that the investors which Sahara was mentioning in its DRHP were not genuine.
The business model of Sahara was different and still shrouded in mystery. It is not proved yet whose money it was. Who are these people? I don't know.
Why did he go in for an IPO?
It was his mistake. Everybody makes mistakes and he too did. Probably, he wanted to get respectability and come out as clean by going public.
The IPO plans blew the whistle and finally he went to jail.
In March this year the Supreme Court said that investors need to be paid back and told him to deposit Rs 5,000 crore in the Sahara escrow account. By December 2023 we will come to know how many people actually got their money back from Sahara.
Where are the investors of Sahara? As you said, by December 2023 we will know how many people will get the money, but only 4,000-plus investors came forward and complained against Sahara. No investor came on the roads to agitate.
There are two parts to it.
People staying in the hinterland and who were below the poverty line put their money in Sahara through their huge networks of agents and seldom got their money back.
They saw their money growing in one scheme to another scheme of of Sahara RNBC, but not all actually got their money back.
The other perception is that it is somebody else's money — which I cannot prove — and Sahara was nothing but a vehicle or an entity to park that money.
And that is why probably you see the name of Kalawati coming out so many times. It strengthens that allegation.
Lastly, there is an interesting story on how Subrata Roy saved Amitabh Bachchan's house from getting auctioned. Can you recall that incident?
It was Amitabh Bachchan's bungalow in Juhu.
This was at a time when Bachchan had failed badly as an entrepreneur (with ABCL). His house was mortgaged to Canara Bank. It was about to be auctioned as Bachchan had defaulted on his loan repayment. At that time Subrata Roy walked in and cut a cheque for Bachchan which saved his house from getting auctioned.
The bank got their payment and stopped the auction.
Subrata had great relationship skills, be it in Bollywood or the cricketing world or the people of the hinterland.
Source: Read Full Article