The IAF's amazing Surya Kiran team.
The Top Videos of the Week, listed by Shailajanand Mishra.

Also see: The world's largest gold-plated burger.
The elephant safari at Kaziranga.
Videos chosen by you through your likes on iShare.
The Hotel That Started Revolving After Four Years
Location: Ahmedabad
It was one of India's first revolving restaurants.
But, for four years, Ahmedabad's iconic Patang Hotel was still. Quiet. Missed by its customers.
It initially shut down because of COVID.
Then, for two years, it worked on its new look.
And now, the revolving restaurant, which can seat 110 guests and offers a 360 degree view of the city, is back in business.
Amazing! The Surya Kiran Aerobatic Team
Location: Narmada
Precision flying at its best! Watch the Indian Air Force's Surya Kiran Aerobatic Team show off their prowess.
Ready For An Elephant Safari?
Location: Kaziranga
Then head to the Kaziranga National Park and Tiger Reserve which has officially opened its elephant safari for tourists.
A Temple For Rajinikanth
Location: Madurai
What won't Thailava's fans do for him?!
The World's Largest Gold-Plated Millet Burger
Location: Agra
When Burger Chachu of Hoshiyarpur decides to make a unique dish, it has to be a burger that's…
1. Gold-plated.
2. Weighs 112 kg.
3. Has a healthy bun made of mixed millet flour.
Feature Presentation: Ashish Narsale/Rediff.com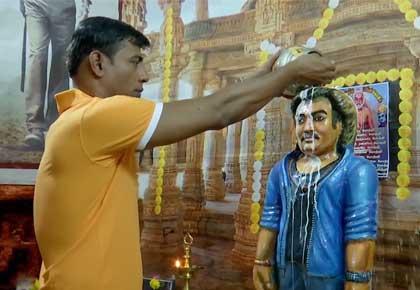 Source: Read Full Article