Tudu's free tuition classes are sought after. She has 45 students who come to her every day to study.
Geetanjali Krishna meets the young teacher in one of India's poorest villages, winner of the Plan India Youth Champion Award.
Illustration: Dominic Xavier/Rediff.com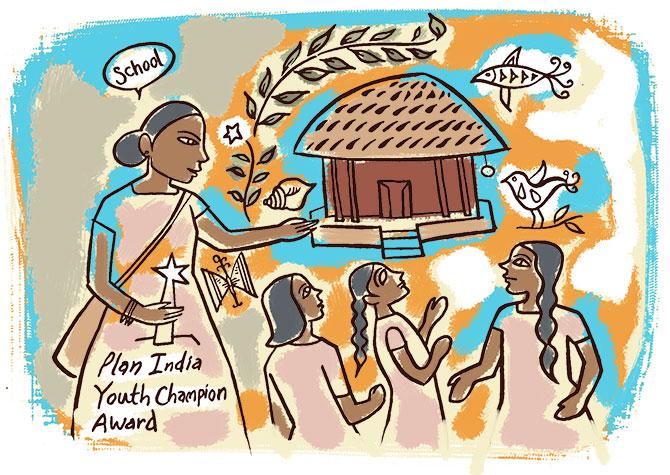 Before the last assembly election, a report by a team of public health experts from Harvard University and Tata Trusts placed Singhbhum, the predominantly tribal region in Jharkhand, at the bottom of all Indian constituencies when it came to child nutrition indicators.
It estimated that a huge chunk of Singhbhum's underfed children are likely to die young; the ones who survive are likely to have impaired physical and cognitive development and reduced performance levels at school.
"This is exactly what I've experienced growing up," said 19-year-old Sarathi Tudu from village Dombautiya in Singhbhum. "Boys my age drop out to work, girls to get married at 14 or 15."
Young Tudu somehow turned out to be different, although coming from a poor, single-parent family, her home situation was less than stable.
"I've always seen my mother work hard as an agricultural labourer to support my younger brother and me," she said.
"From a young age, I've felt that perhaps if she'd been to school, she'd have been able to earn better wages without working so hard."
Two years ago, the young girl joined a local NGO Nav Bharat Jagriti Kendra as a peer educator. "My role was to motivate my peers to continue their schooling," she said.
"My family found it peculiar that I would go door to door and even address public functions — but I didn't pay attention to them!"
Tudu's efforts have had quite an impact on her village. She's been able to convince three dropouts to return to school.
Her free tuition classes are sought after (she has 45 students who come to her every day to study).
A vocal proponent of gender equality, she spends much of her time counselling parents to invest in their daughters's education.
At her behest, two families have sent their daughters to private school. Tudu also volunteers as a substitute teacher in the local government school.
Seeing her enthusiasm, other young people have also joined the effort. Today, there are hardly any instances of child marriage and even child labour in Dombautiya.
"Often I ask my students what they'll do when I'm not here," she says. "They tell me they'll carry on the work I'm doing and that makes me feel so good."
Presently pursuing a diploma in computer application, Tudu somehow manages to balance her volunteer teaching work and studies.
Her faculty has already offered her a teaching position after she completes the course and she's confident that she'll be able to continue her activities even after she starts working.
"Eventually, I'd like to become a school teacher," she said. "For in an underdeveloped region like Singhbhum, education is the only key for us to unlock the doors to success,"
Some of her students pay her what they can, and with these earnings, Tudu now supports her younger brother's schooling.
She still nurses the dream of earning enough money so that her mother can stop working.
Being a peer educator has changed her life, she said. In Delhi to receive the Plan India Youth Champion Award, she was raring to go back and resume her good work.
"I've made it my mission to ensure that all my peers finish school so that they can have a shot at better careers," she told me. "In the process, perhaps I will become successful too."
Source: Read Full Article