Four years ago he watched the World Cup final in a Bengaluru pub. On Thursday, Rachin Ravindra scored a 100 in the World Cup 2023 opening game.
October 5 will be etched in Rachin Ravindra's heart forever. The story that unfolded during the World Cup 2023 opener at the Narendra Modi stadium in Ahmedabad was nothing short of a fairytale.
Ravindra scored in tandem with senior team-mate Devon Conway as the pair's record 235 run unbeaten partnership saw New Zealand begin their World Cup 2023 campaign with a crushing win over defending champions England.
With Kiwi Skipper Kane Williamson being rested, Ravindra made the most of the opportunity handed to him as he hammered his maiden ODI hundred on his first World Cup appearance.
Rewind Four Years…
New Zealand's previous World Cup game was that memorable 2019 final against England. Rachin watched the game in Bengaluru pub and watching the match. Four years down the line, the Kiwis faced off the defending champions in India.
This time, Rachin was in the thick of things with a century on the opening day of the marquee tournament.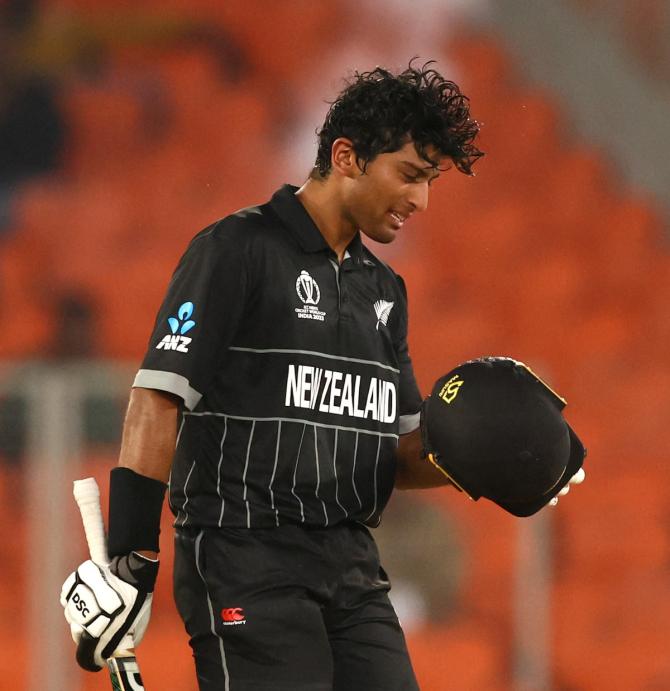 In March 2023, Rachin made his ODI debut. Prior to his century knock, the youngster has featured in 12 ODIs.
A Knock To Remember…
In the build-up to the tournament, Rachin hammered 97 against Pakistan in the warm-up match. And he continued in the same vein on Thursday as he scored an unbeaten ton.
After the Kiwis lost opener Will Young for a duck, Rachin walked in at No. 3 and took the game away from the reigning champs along with Conway.
Rachin's 96-ball 123 was peppered with 11 boundaries and five sixes. The young batter stitched together an unbeaten stand of 273 off 211 balls — New Zealand's highest for the second wicket in ODIs, with Conway (152* off 121) as he began his World Cup journey on a cracking note.
The Bengaluru Connection
Rachin's Indian born parents were cheering him from the stands as he hammered the England bowlers around the park. His father Ravi Krishnamurthy played club cricket in Bengaluru and is a huge fan of Rahul Dravid and Sachin Tendulkar.
Which is why he named his son Rachin — Ra from Rahul Dravid and chin from Sachin Tendulkar.
Karnataka Weather tweets that Rachin's grandfather Dr T A Balakrishna Adiga taught biology at Bengaluru's Vijaya College. Thank you for the information, Karnataka Weather!
Source: Read Full Article