Organisers hope a high-tech opening ceremony on Saturday will help drum up excitement for the Games. The Asian Games Opening Ceremony kicks off at 1600 IST.
China's eastern city of Hangzhou stepped up security ahead of Saturday's opening of the Asian Games, as organisers hope to get the sporting extravaganza off to a smooth start with President Xi Jinping among the dignitaries set to attend.
Roads in a sizeable "traffic control area" around the city's Olympic stadium were blocked off, at least one metro station was shut and other Games centres were closed off ahead of a ceremony organisers said would be "mesmerising".
Some of those making the trek out towards the stadium were left frustrated by the size of the sealed off area.
"I think it shows they're too nervous, right?", said 45-year-old Hangzhou resident Li Jian.
"I think we should be a little more confident."
Organisers have not disclosed spending on the Games, though the Hangzhou government has said it spent more than 200 billion yuan ($30 billion) in the five years through 2020 on transport infrastructure, stadiums, accommodation and other facilities.
Delayed a year due to China's measures to combat the COVID-19 pandemic, the quadrennial Games will be the country's biggest sporting event in over a decade, with more than 12,000 athletes from 45 nations competing in 40 sports.
Organisers hope a high-tech opening ceremony on Saturday will help drum up excitement for the Games. Interest at home has been muted as the economy sputters and some question the cost of hosting the mega-event.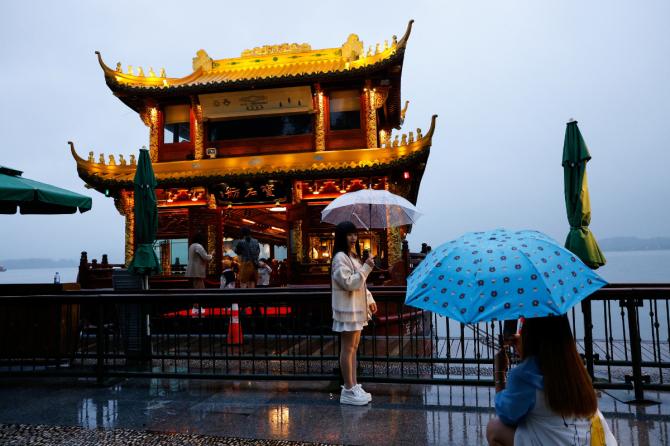 "We will transport the beauty of mountains and rivers directly onto the stage, using the mesmerising combination of naked-eye 3D visual effects and virtual imagery," Sha Xiaolan, chief director for the ceremony, told a press conference on Thursday, according to state media.
Dozens of smiling volunteers greeted arriving journalists in Hangzhou this week, with some expressing relief that the event was finally getting started.
The official slogan of the event, "Heart to Heart, @Future", represents the goal of uniting the people and countries of Asia through these games, officials have said, but geopolitical tensions and rivalries threatened to overshadow that effort this week.
Xi called on the West to lift sanctions on Syria and offered Beijing's help in rebuilding the war-shattered country on Friday during rare talks with the long-ostracised Syrian leader Bashar al-Assad.
Also on Friday, India protested over a visa issue that affected three of its athletes at the games, leading India's sports minister Anurag Thakur to cancel his trip.
Japan's top government spokesperson said on Tuesday that Tokyo would do its utmost to ensure the safety of Japanese nationals in China as the release of treated radioactive water from the Fukushima nuclear power plant into the sea has chilled ties.
"We should promote peace through sports, adhere to the principle of goodwill towards neighbours and mutual benefit and… resist the cold war mentality and confrontation between camps," Xi told dignitaries including International Olympic Committee President Thomas Bach at a Saturday banquet, state news agency Xinhua reported.
Source: Read Full Article