'His experience is immense. In our batting chat today (Friday), we basically listened to him. He gave the batting chat as to what the conditions are like, what to expect.'
South Africa are expecting a batter's paradise when they face old rivals England at the Wankhede Stadium in Mumbai on Saturday, with both sides needing to bounce back from unexpected defeats in their last Cricket World Cup pool encounters.
England lost to Afghanistan by 69 runs and South Africa were toppled by Netherlands to put the brakes on their excellent start to the tournament. Both will be eager to get back into gear on what has traditionally been a fine wicket for batting.
"The guys that have played here before have spoken about how it can be a batter's paradise. You get value for your shots and the ball seems to travel further," South Africa captain Temba Bavuma told reporters on Friday.
"It can build a lot of confidence. And if it is your day, you can fill your boots."
Quinton de Kock, set to retire from ODIs after the World Cup, has had the Wankhede Stadium as his home ground in the IPL playing for Mumbai Indians. Bavuma said de Kock's experience will come in handy for his side which also has some players including himself playing here for the first time.
"His experience is immense. In our batting chat today (Friday), we basically listened to him. He gave the batting chat as to what the conditions are like, what to expect," Bavuma told the media before South Africa's training session.
Bavuma, who opens the innings for the Proteas, has had a quiet start to the World Cup with scores of 8, 35 and 16, unlike his explosive batting partner de Kock, who struck centuries in the first two games. Bavuma said de Kock's experience will be vital for his side.
"I mean, for at least a player like myself, who has never played here, you feed off that type of information, that type of intel.
"Obviously with him having the good start (to the World Cup), like you said, he will be looking to build on that. And I am sure if it is his day, if the conditions allow, I am sure he will take it with both hands," Bavuma added.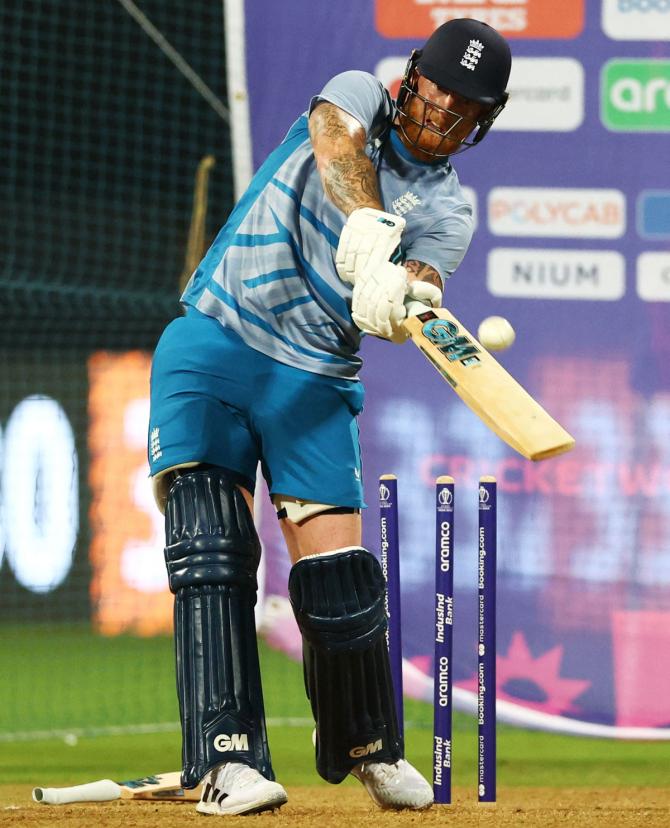 Both teams have excellent hitters in their top six, with the return of Ben Stokes from injury a big plus for England.
"He is an x-factor player," Bavuma said. "He is a guy that can change the course of the game and is someone we have covered in our preparation. We know we are going to have to be at the top of our game to get him unstuck."
South Africa were poor at the back end of their bowling effort against Netherlands and then started tentatively with the bat as they succumbed to a 38-run loss.
"We've had hard conversations as a team and where things went wrong for us from a batting, bowling and fielding point of view. We've put that behind us," Bavuma said.
"We also acknowledge the fact that in the last couple of months, we have played a lot of good cricket. So it's not to overlook that and allow one 'blip' in our game to override everything that we've done.
"It's easy to second-guess yourselves, second-guess your processes and your game, so it's not to forget all the good work that we've done."
Bavuma also conceded that some members in the South African camp were surprised by the Netherlands' tactics of bowling a lot of spin front-up.
"It definitely surprised some of us, that tactic of theirs with the spin. Understanding that the wicket supposedly was not favourable towards spin. With that being said, we had to adapt. Some of us were able to, some of us were not able to adapt," Bavuma said.
"We know England have also employed that, sometimes bowling the off-spinner at the top, so that is something that we are expecting, whether they go that route. But yeah, it did take some of us by surprise in terms of Netherlands' tactic to keep going longer with the spin and power play," Bavuma said.
Source: Read Full Article