Charlie Chopra and the Mystery of Solang Valley is fun in parts, discovers Deepa Gahlot.
There have been unofficial Hindi film adaptations of Agatha Christie's novels, like Gumnaam and Dhund, but for the first time, Agatha Christie Limited, which handles the author's estate, has franchised one of her novels to Vishal Bhardwaj.
He has made the six-part series Charlie Chopra and the Mystery of Solang Valley, adapted from Agatha Christie's The Sittaford Mystery.
Written along with Anjum Rajabali and Jyotsna Hariharan, it is a typical whodunit, and not the author's best. But assembling a fine cast — that includes Naseeruddin Shah's entire family — and letting Cinematographer Tassaduq Hussain work his magic with snow-clad Himachal landscapes and cosy hill cottages, ensures that there is enough reason for audiences to watch this Web series.
Bhardwaj has been respectful of Agatha Christie's storytelling style but has made changes of his own, adding and dropping characters, and updating it to current times. So there are cell phones, computers and television reporters.
Charulata 'Charlie' Chopra (Wamiqa Gabbi), who introduces herself with her full Patiala address (which is turned into the title track), arrives in Solang because her fiancé Jimmy (Vivaan Shah) has been accused of murder.
Earlier, at a séance conducted by Dr Rai (Naseeruddin Shah) at the home of Jimmy's aunt and uncle (Neena Gupta, Lalit Parimoo), in the presence of several of their friends and relatives, the death of the host's brother Brigadier Meherban Rawat (Gulshan Grover) is predicted.
His friend, Colonal Barua (Baharul Islam), braves a snowstorm to rush to the Brigadier's house, several hours away, on foot to check on him. He finds the man dead, with clues that point to Jimmy.
The local cop, Inspector Narayan (Ghanshyam Garg) rudely dismisses Charlie's questions, convinced that he has solved the case.
Charlie starts investigating on her own, reluctantly sharing AirBnb accommodation and information with a chatty TV reporter Sitaram Bisht (Priyanshu Painyuli).
The town is full of people who have reason to kill Rawat and Charlie finds that none of their alibis hold.
The wealthy Rawat was notoriously ungenerous towards his family and to their horror, springs a much younger fiancée Nikki (Emily Ackland) on them, which changes the terms of his will. They were all depending on his money to get out of financial troubles and Nikki dashes their hopes.
Charlie is spirited and sharp, adept at asking inconvenient questions of her list of suspects and frequently addressing the audience in Punjabi.
Her antics are enjoyable but when Bhardwaj stuffs the small town with red herrings, each of them needs a back story, whether it is a weepy ghazal singer (Lara Dutta) and her mentally disturbed daughter (Bhagyashree Tarke), a down-on-his-luck writer (Chandan Roy Sayal) and his wife (Paoli Dam), Rawat's ailing nephew (Pulkit Makol), Jimmy's nasty brother Billu (Imaad Shah), nosy neighbour (Ratna Pathak Shah) and her nephew (Karan Nagar) and a few other minor characters with a grudge.
Then there is also Charlie's troubled past, duly ticked.
There is too much unnecessary human clutter.
This causes the pace of the show to drag. And then, there are odd sequences like Charlie weeping like a character from a stage melodrama and chopping her hair when she feels betrayed at some point.
Still, when she is on screen, the show picks up on her pixie-ish energy and perks up. Otherwise, the eye shifts to the breathtaking landscape that even in its inertness, appears to hide dramatic secrets. Attention is also drawn to the background score (music is by Bhardwaj) that occasionally throws up surprising jazz tunes.
Even when the story ends, and the murderer is identified, Bhardwaj is tempted to extend it with the classic Agatha Christie device of gathering all the characters in one room and exposing more secrets.
Charlie Chopra and the Mystery of Solang Valley is fun in parts, and keeps up the suspense to the end because that was the hallmark of Agatha Christie's writing and the reason for her popularity.
There is a Teesri Manzil (1966) tribute — a film-maker's hat-tip to one of the best suspense films made in Bollywood.
The detective movie has not been too popular in Hindi cinema, maybe because directors in the past wanted repeat audiences.
Now those days are gone, OTT has opened doors to genres not adequately explored. It does look like Charlie Chopra will be back.
Charlie Chopra and the Mystery of Solang Valley streams on SonyLIV.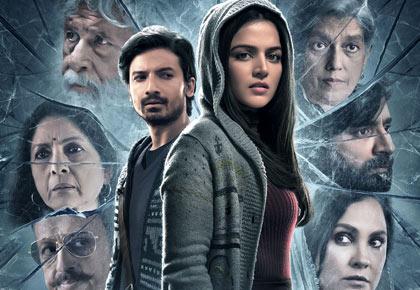 Source: Read Full Article