'What we did in this (1971) war and with what motive (was incredible).'
'We helped Bangladesh become an independent country, and the very next day, we left their soil and came back to our country.'
Ishaan Khatter is excited about Pippa, which sees him play an army commander.
The young actor, who debuted with Majid Majidi's Beyond the Clouds in 2018, has starred in only four films in five years.
When asked if he is selective when it comes to choosing scripts, Ishaan tells Rediff.com Contributor Mohnish Singh, "Things are not always in my hand. I don't like to take breaks. I want to work every day and entertain my audience every single day."
This is the first time you are playing a character based on a real life personality. What was the most challenging part about playing it?
There were many aspects of this character which turned out to be really challenging.
And I would like to mention that this has turned out to be an important experience of not only my career but also my life.
There is a way an army man lives his life, and being a civilian, it was a great privilege for me to experience that.
It was great that I could spend some time with the army.
Brigadier Balram Singh Mehta was with us throughout the entire shoot, guiding us at every step.
It was his direction, inspiration, and encouragement that ensured we were on the right track.
Playing a tank commander was, of course, very challenging.
Essaying such a character in a film set against the backdrop of a war and making it thrilling at the same time was challenging.
I had to perform several action sequences while being in the tank and giving commands simultaneously. That was tough.
I felt the pressure of playing the character with responsibility.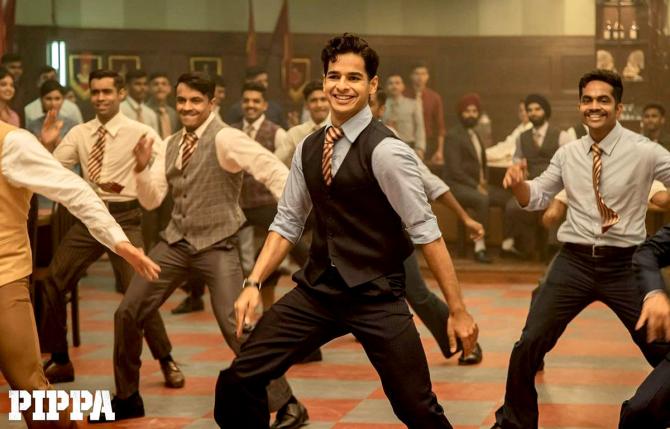 What is your takeaway from this film?
It's a story of a war, a family.
I have done A Suitable Boy before, which was a period piece set in 1950s.
I strongly believe that once you are done researching your character, its way of living, speaking, and the society it comes from, you should also add something from your end as an actor.
When you enter the skin of such a character, make sure that today's audience resonates with it because we are making this film for them.
I would like to give the entire credit to our Director Raja Krishna Menon and the team. The way they created this period, carried out the extensive research, and the setup, it's all their genius.
We see the entire timeline from the viewpoint of this army commander and hence, the army training was critical.
Understanding the deeper meaning of what being an army man means in itself is work.
The biggest point of contact that we had, the biggest guidance that we had, was Brigadier sir himself.
If we had any query, any confusion, he was very kind enough to make himself available for us.
While promoting Dhadak, you had said you wanted to do massy films, but now we see that you are more drawn towards unconventional roles.
I have tried to pick the best from the opportunities that I get.
When I say 'best', it's a personal thing.
If I feel I can portray the feelings, the substance, and the emotions of this character well.
If I understand this character at a certain level and can get into it in some way or the other, I take them up.
So basically, I pick characters that excite me.
Having said that, film-makers excite me more than anything.
I had seen Airlift by Raja Menon sir and knew he is a film-maker with certain calibre.
The story of Pippa is such that I feel today's youth should definitely know about it.
It's a proud piece of our history.
I feel that talking about it, discussing it, and telling stories about it is very important.
As far as war is concerned, I am not somebody who believes war is an answer, but what we did in this (1971) war and with what motive (was incredible).
We intervened and helped Bangladesh become an independent country, and the very next day, we left their soil and came back to our country.
I believe it was a very noble act and, at the same time, a tale of pride.
I don't feel this is a limited or unconventional film at all. It's a very interesting story that I believe will affect each and every one in one way or another.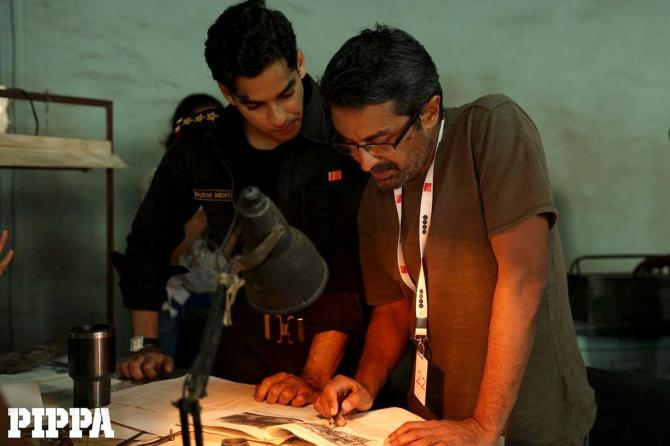 How did you feel when you slid into an army uniform for the first time?
It's a different feeling altogether.
You feel a sense of responsibility.
You feel a strong sense of purpose.
We took it very seriously.
As part of our preparations, we did two training camps with the army.
It gave us that sense of respect and admiration.
When you see something from far, it's different. But when you move a little closer, you realise there is so much more to it.
There is a human being inside every soldier.
It takes great grit, determination, purpose and courage to do what they do, every single day.
They wake up with that every single day, so that sense of responsibility was always there.
Also, there is a certain element of swagger that cavaliers carry and it's a part of their life and lifestyle.
To understand that and then embody that was very important for us.
When it comes to heroism, I remember when I spoke to Brigadier Balram for the first time, it was via a Zoom call.
During our first meeting, I said to him casually, 'Sir, don't mind, but I'll be bombarding you with a lot of questions.'
He said, 'Well, young man, you would be very happy to know that one is quite used to bombardment, of another kind though.'
For us, this is just a word, a creative expression. But for them, it's a lived memory.
They are really the real heroes and it's a privilege to tell their stories.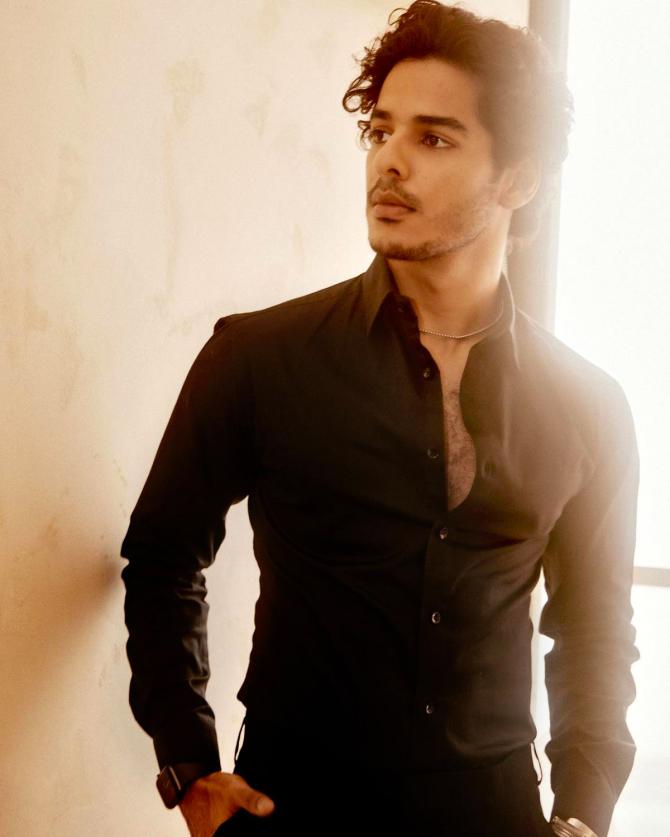 You mentioned that Brigadier Balram Singh Mehta was there with the team throughout the shoot. How much did that help you?
A lot. When you tell a story of someone who has been a part of history, it generally does not happen that that person is there with you throughout to guide you through.
I think it's a rare opportunity and a big gift.
At the same time, he also gave us that freedom to express ourselves as artists, take his story and tell it in our own way.
I think hopefully he felt some sense of trust in us that we would not do injustice to his story.
We were very committed from day one that we make it authentic and real.
I don't think Pippa would have been the same film if we had not received the kind of support we did from the army and Brigadier Mehta.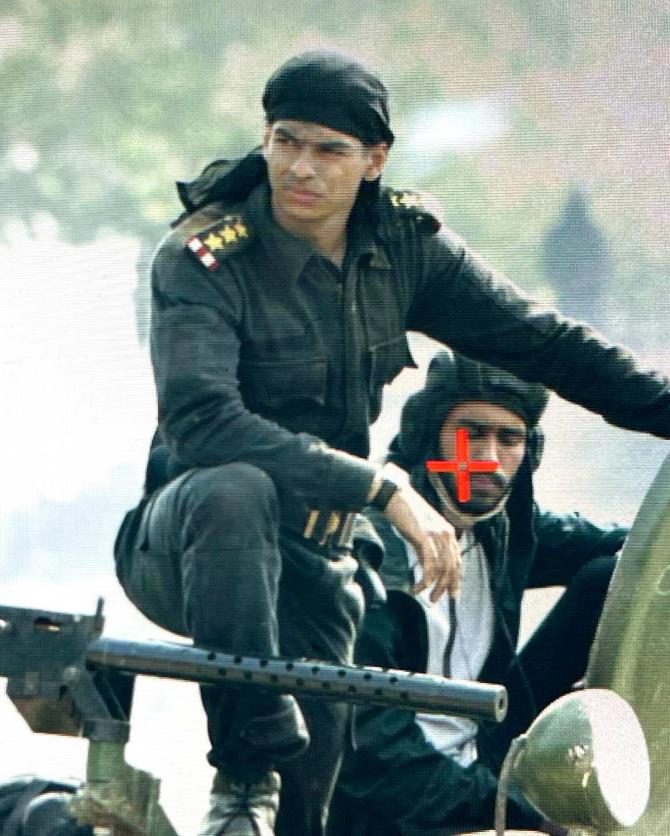 Do you think you do selective films?
Everyone does that.
Yes, there has been some gap between the release of my two films.
I have tried to pick the best from the roles that are offered to me, so that I am involved, stimulated, interested and don't get bored and deliver a half-cooked performance.
I have gained reassurance and self-belief after working with the people I have worked with so far. They have instilled confidence in me.
Now I will try to do more work.
Having said that, I like doing one film at a time, giving all my time and energy to one film, one character at a time and then move on to the next film.
This allows me to work on my physicality if the character demands so.
Suppose I do two films together and play two starkly different characters at the same time, what if the director of my second film wants me to go bald? Will I say I can't do it?
And if I agree, how will I go back to my first set and play that role again?
More than physical, there is an emotional aspect also. I believe you play a character better if you live with it, spend some time with it.
Additionally, things are not always in my hand.
I don't like to take breaks. I want to work every day and entertain my audience every single day.
I am sure I will get more and more opportunities if you guys continue pouring in loads of love and appreciation.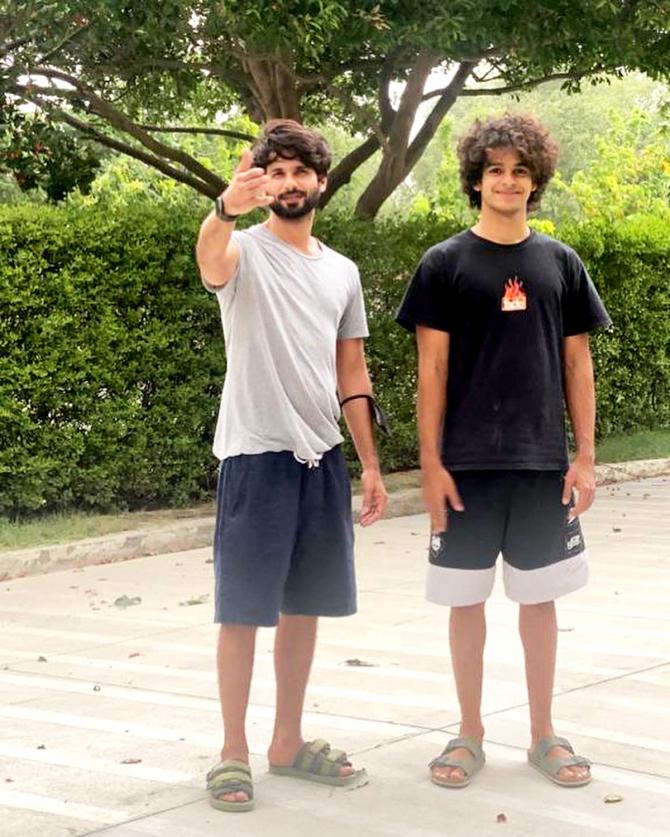 How did your brother Shahid Kapoor react to the trailer of Pippa?
I think he loved the trailer.
He did not call me, he called the director.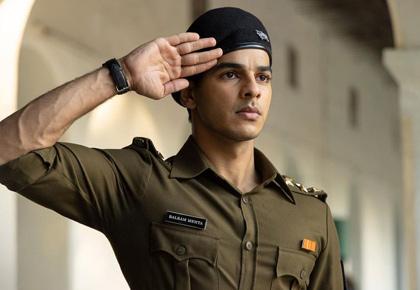 Source: Read Full Article