"All the big production houses are making superhero films, so I thought I should make one too. So I have made a genuine superhero film," Vivek Agnihotri says about his new film, The Vaccine War.
There's a reason why The Kashmir Files director decided to make this film, and at its trailer launch, spoke passionately about just who the superheros are, who should inspire future generations.
Starring Nana Patekar, Pallavi Joshi, Anupam Kher and Raima Sen, The Vaccine War releases on September 28.
Afsar Dayatar/Rediff.com brings us glimpses about what to expect from The Vaccine War.
"During COVID, everyone's life was under attack. We often think that the soldiers of the country take their guns and fight for us at the border. But in this situation, the COVID front-line workers, the people in the administration, and of course, our scientists were trying to protect our lives. At that time, it's very unfortunate that some people were selling India and our lives!" exclaims Agnihotri.
He alleges in this video how people were trying to sabotage Indian vaccines for a political agenda.
And drops a few political names in a subtle way.
Even after making a blockbuster like The Kashmir Files, Agnihotri admits that getting finance for The Vaccine War was difficult.
"A trade analyst sent me a list of the biggest movies of September, and he said the next biggest hit will come on the 28th. But The Vaccine War isn't even mentioned, like we don't even exist. So if we don't even exist, how will we get financed?"
What is the motive for Agnihotri for making his brand of movies?
"India is the only industry in the world to have a genre of movies called Muslim Socials. Rajesh Khanna, Rajendra Kumar… the posters had 'Muslim Social' in its posters. Then the NRI market developed gradually and we removed the common man from our movies. I have done nothing new. This is how movies should be made," he says.
What made Agnihotri cast Nana Patekar in the lead role?
The director gives two interesting reasons. But it is the actor's response that makes this video worth a watch.
"I was watching a film that did very well, but I couldn't watch it. Magar woh bahut chalti hai, yaar. I feel we show this kind of material to people baar baar and force them to like it," says Nana.
"Now, I am an actor and tomorrow, I want to make my son an actor, uska aukaad ho na ho. But I want to force him on you. After watching 10 of his films, you will stop seeing his weaknesses and will start accepting him. Aur ek din woh hamare sir pe bhaita hai," Nana says, outlining his thoughts on present day movie-making.
"While doing a film like Welcome and a film like this, dono mein jaan dalni padti hai. Here, everything is convincing, but there nothing is convincing. You have to make it convincing," he adds.
Why isn't Nana a part of Welcome 3, which Akshay Kumar announced on his birthday, September 9?
He answers: "Unko lagta hai shayad hum purane ho gaye…"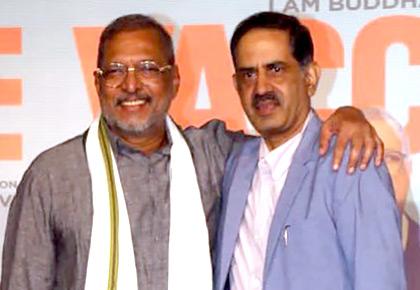 Source: Read Full Article