'My character Meena seemed like a selfish, cold, heartless woman, who abandons her lover because he is moneyless.'
Mala Sinha, who turned 86 on November 11, is the most under-rated actress of Hindi cinema. Her repertoire is staggering, but she is not acknowledged among the all-time greats.
Take Guru Dutt's Pyaasa.
While Waheeda Rehman's performance is rightly celebrated, Mala Sinha's far more complex character has largely been ignored.
At first, Guru Dutt made effervescent films like Mr & Mrs 55, Aar Paar and Baazi. As a deep melancholy set into his soul, Guru Dutt's cinema grew deep, dark, retrospective and brooding.
Pyaasa was a homage to a manic pessimism.
Long before depression became clinically certifiable, Guru Dutt made this film on the unbearable darkness of being.
It inspired a whole brood of film-makers, including Manoj Kumar in whose under-rated Roti Kapda Aur Makaan, Zeenat Aman's character was discernibly modelled on Mala Sinha in Pyaasa. Instead of Jaane Woh Kaise Log The from Pyaasa, Manoj Kumar sang Aur Nahin Bas Aur Nahin Gham Ke Pyale Aur Nahin.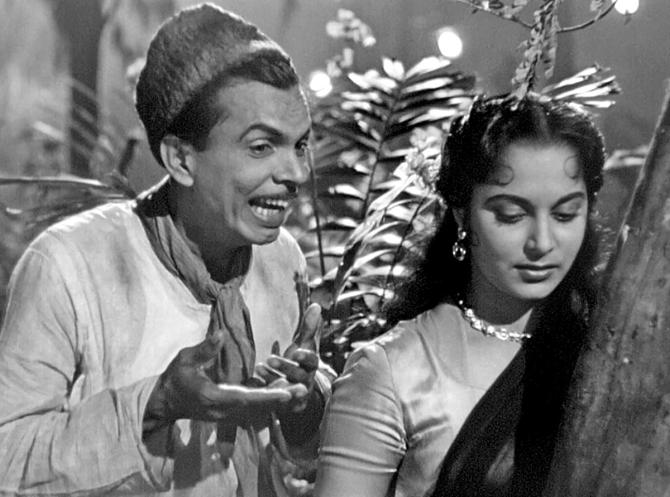 We have grown up adoring the Fallen Woman, the filmi tawaif with a heart of gold, who gives herself in love selflessly. From Meena Kumari in Pakeezah to Sharmila Tagore in Amar Prem to Madhuri Dixit in Devdas, they have all risen to great heights of sublimity by playing fallen women.
Waheeda Rehman's Gulabo in Pyaasa has always been the most empathetic among the celluloid sex workers. She is the impish, impulsive, all-giving child-woman, offering her love, prayer-like, unconditionally to the emotionally and spiritually bereft poet-hero Vijay (Guru Dutt).
Quite a glaring contrast to to the film's other female protagonist Meena (Mala Sinha), who dumps her boyfriend Vijay when she sees he is incapable of giving her the life she desires.
In other words, Meena sacrifices 'love' (as represented by the Fallen Woman's unconditional decision to 'go away' with her man at the end) for a good life. No wonder Mala Sinha never got applauded for her performance in Pyaasa.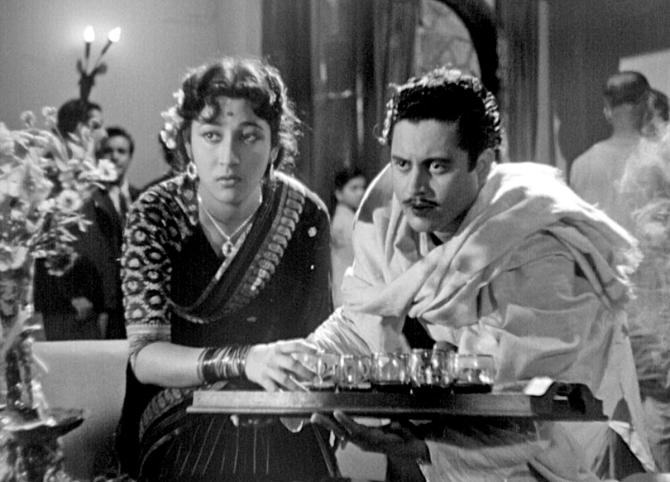 Which critical analysis of Pyaasa has ever done justice to Mala Sinha's character and performance?
Meena is seen as the crass gold digger. The kind of material girl who marries for money and sulks in the shadows for the rest of her life.
No major heroine wanted to touch Meena.
Mala Sinha was always a daring diva. In Yash Chopra's Dhool Ka Phool, she was the first unwed mother of post-Independence Hindi cinema. In B R Chopra's Gumrah, she plays a wife who secretly carries on a relationship with the man she loved before marriage.
Speaking proudly about Pyaasa, Mala Sinha says, "My first instinct was to say no to Pyaasa. My character Meena seemed like a selfish, cold, heartless woman, who abandons her lover because he is moneyless. But look the girls today. They are as practical as my Meena was in Pyaasa so many years ago. Sirf pyar-mohabbat se zindagi nahin chalti (Life can't be lived on love alone)"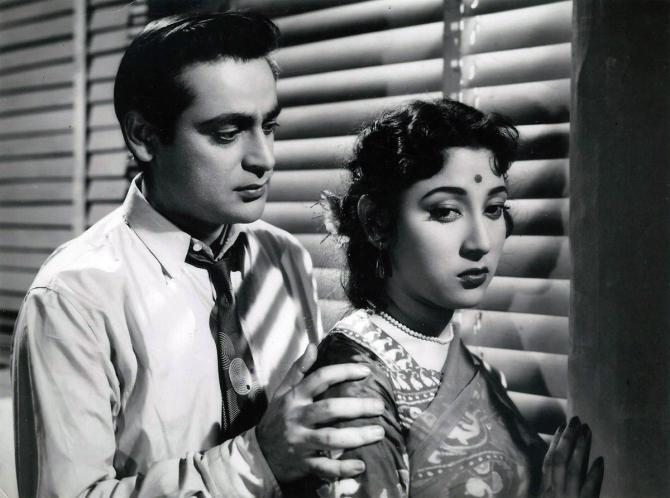 Mala Sinha's Meena in Pyaasa is one of the most complex female protagonists in Hindi cinema.
She loves the poor underdog but would rather marry the affluent publisher (Rehman) because she knows what women of today accepts: Love on its own is of no use unless it's validated by a solid income.
In Hindi mainstream cinema, virtuous heroines don't repudiate love for practical reasons the way Mala Sinha did 66 years ago. For being so ahead of her times, Mala Sinha paid a heavy price. She is not regarded among the screen greats of the golden era.
"I had a negative role in the film," she says.
"I desert my beloved to marry money. I was seen as a vamp. When Mahesh Bhatt had come to sign me for Smita Patil's role in Arth, he had praised me for Pyaasa."
Mala Sinha is all praise for her co-star Waheeda Rehman: "Waheeda is fantastic in the song Jaane Kya Tuney Kahi. There was no rivalry between us. We loved each other and always praised each other's works."
"When Waheeda saw me in Sanjog (which starred then newcomer Amitabh Bachchan), Waheeda wanted to know how I had done a particular dramatic scene. When Guide released, I called up Waheeda and said, 'Tuney woh scene with Kishore Sahuji kaise kiya? Heroines in my times encouraged one another. Do you now how I got Jahanara? Meena Kumariji sent the actor-turned-producer Om Prakash to me. We didn't snatch one another's roles."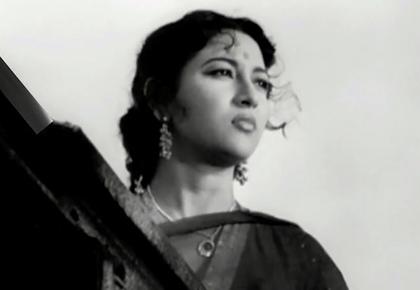 Source: Read Full Article