Union Minister of Road Transport and Highways Nitin Gadkari on Tuesday unveiled the prototype of the world's first Bharat Stage (BS)-VI-compliant electrified flex-fuel car, developed by Toyota Kirloskar Motor.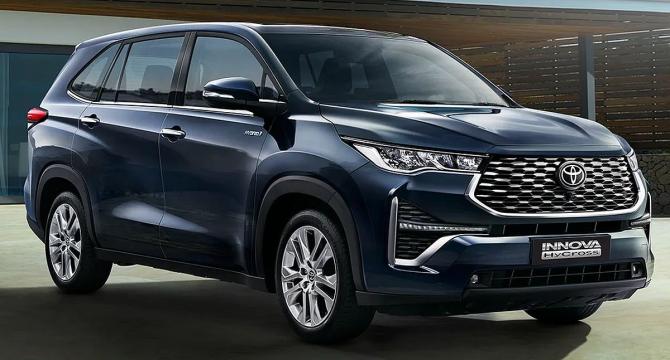 The car, which runs on 100 per cent ethanol (E100), is based on the Toyota Innova HyCross.
It can cover 40 per cent of its distance on ethanol and the remaining 60 per cent on electric, with the petrol engine shut off.
"Increased demand for ethanol for blending with petrol and diesel will transform India's agricultural economy, making farmers 'urja daata' (energy provider)," Gadkari said during the prototype launch.
While flex-fuel vehicles have been introduced internationally before, and Toyota launched a flex-fuel version of its Corolla last year, this is the first flex-fuel vehicle compliant with India's BS-VI emission standards, according to the company.
In contrast to the higher contributions of the manufacturing and services sectors, agriculture and allied industries contribute only 12 per cent to India's gross domestic product (GDP), despite 65 per cent of the population depending on agriculture, said Gadkari.
The ethanol industry is a boon for farmers, with the demand for ethanol set to increase, reshaping India's agricultural economy.
"Our farmers will not only be 'anna daata' (food providers) but also 'urja daata'," he stated.
Gadkari expressed confidence that the share of agriculture in GDP will grow alongside the demand for ethanol.
"I am delighted that the day the ethanol economy reaches Rs 2 trillion, the agricultural growth rate, currently at 12 per cent, too will rise to 20 per cent," he added.
Successful tests for alternative fuels have been conducted in generator sets, vehicles, aircraft, and more, the minister highlighted.
Gadkari also shared that neighbouring Bangladesh has requested India to supply petrol blended with ethanol.
"Today's development is a boon for farmers.
"I thank the management of Toyota Kirloskar for developing the technology that will help reduce pollution in the country and create job opportunities in the agriculture sector.
"I urge you to create more models with flex engines.
"I envision motorcycles, e-rickshaws, autorickshaws, and cars all running on 100 per cent ethanol," he stated.
Union Minister of Petroleum and Natural Gas Hardeep Singh Puri mentioned that in 2014, India blended ethanol to only 1.53 per cent.
It has since increased by over eight-fold, reaching a blending rate of around 11.5 per cent by March 2023.
This has not only led to significant savings on the import bill but has also contributed to lower carbon emissions.
"We have advanced the target for E20 blending to 2025 from the original plan of 2030, and I am pleased to note that, with the strong efforts of all stakeholders, we will achieve this goal," Puri said.
E20 refers to petrol blended with 20 per cent ethanol. India's current ethanol blending with petrol is 11.75 per cent, and the government aims to achieve 20 per cent blending soon.
"Currently, E20 fuel is available at more than 3,300 fuel stations across the country and will be accessible nationwide by April 2025.
"With E20 implementation by April 2025, the expected annual savings on the import bill could be around Rs 35,000 crore, displacing 63 million barrels of gasoline imports (in EY 2024–25)," he said.
Masakazu Yoshimura, managing director and chief executive officer of Toyota Kirloskar Motor, stated that this achievement underscores the company's commitment to shaping a carbon-neutral mobility society in line with the Government of India's initiatives through multiple pathways.
"We continue to evaluate and introduce cleaner technologies that suit the local ecosystem, considering the energy mix, infrastructure readiness, and consumer acceptance.
"This way, we can achieve a significant reduction in fossil fuel usage and carbon emissions at scale and a faster pace.
"As a responsible corporate citizen, we stand resolute in our efforts to contribute to a greener and more self-reliant future for India," he concluded.
Source: Read Full Article