'My life partner, the person I love the most, she's sitting there. My hero, he's sitting there.'
Virat Kohli said he had painted the perfect picture after confirming his place as cricket's modern-day master batsman with a record 50th One-Day International hundred in his team's World Cup semi-final win over New Zealand in Mumbai on Wednesday.
After equalling Sachin Tendulkar's mark of 49 ODI hundreds against South Africa on his 35th birthday this month, Kohli claimed the record at the Wankhede Stadium with a knock of 117.
Tendulkar made his 49th hundred in his 451st innings and his tally was widely considered to be one that would never be surpassed.
Kohli, however, needed only 279 matches to eclipse his cricketing idol.
The 35-year-old ran hard to complete two runs off fast bowler Lockie Ferguson and reach three figures before leaping up and punched the air in delight.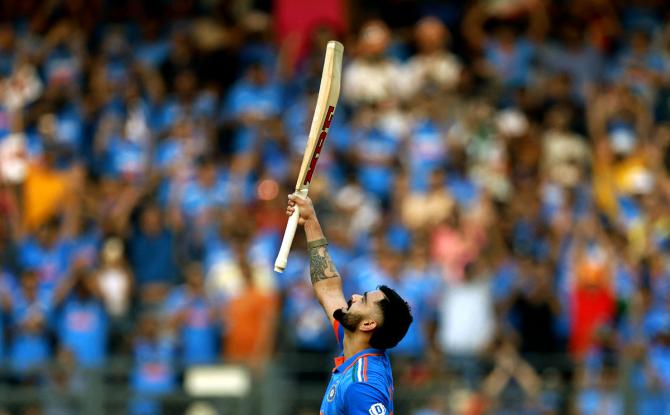 He removed his helmet, kept his bat on the ground and bowed towards the stands where his wife Anushka Sharma and Tendulkar stood and applauded among other Bollywood celebrities.
"It's stuff of dreams, Anushka was sitting right there, Sachin paaji (elder brother) was there in the stands," Kohli said.
"I mean, it's very difficult for me to explain this, but if I could paint the perfect picture, I would want this to be the picture.
"My life partner, the person I love the most, she's sitting there. My hero, he's sitting there. And I was able to get the 50th in front of all of them and all these fans in such a historic venue. It was amazing."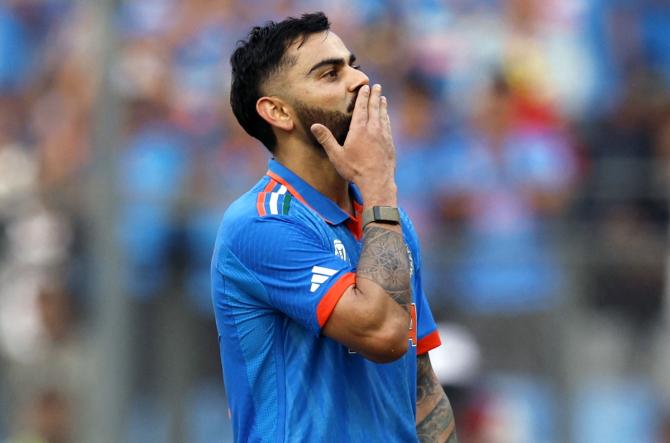 Kohli's third hundred of the tournament was enough to help unbeaten India beat New Zealand by 70 runs and seal a spot in Sunday's final in Ahmedabad against Australia or South Africa.
"This all feels like a dream, honestly. It's too good to be true. It feels surreal. I never thought I'd be here ever in my career," Kohli said.
"Just to help the team so many times. Again a big game today and I played the role I have throughout the tournament so that the guys around me could express themselves.
"I am glad things came together so nicely and we could put a good total on the board."
Tendulkar was effusive in his praise of Kohli.
"The first time I met you in the Indian dressing room, you were pranked by other team mates into touching my feet. I couldn't stop laughing that day," Tendulkar, who hails from Mumbai, said on social media platform X.
"But soon, you touched my heart with your passion and skill. I am so happy that that young boy has grown into a Virat (massive) player.
"I couldn't be happier that an Indian broke my record. And to do it on the biggest stage – in the World Cup Semi-final – and at my home ground is the icing on the cake."
Source: Read Full Article