Shakib Al Hasan's appeal for a timed-out dismissal against Sri Lankan all-rounder Angelo Mathews has the cricket world divided. As Mathews became the first player to lose his wicket due to 'timed-out', several former cricketers lashed out at the Bangladesh skipper and amongst his critics was the team's bowling coach as well.
Talking about the dismissal, Bangladesh's bowling coach Allan Donald said he doesn't 'like that sort of thing'.
Following the match, Shakib had said that he took the decision 'to make sure my team wins' while Mathews hit out saying it was 'absolutely disgraceful'.
Speaking during an interview with CricBlog, CricInfo quoted Mathews as he said, "It was disappointing to see. I can understand Shakib taking his chance.
"His words were 'I was doing everything to win'. You can sense in my voice that I don't like I don't like that sort of thing. It was really difficult to watch that unfold – one of Sri Lanka's all-time greats walking off the field without a ball bowled to him being given out for time. That's where I stand on that," Donald said.
"You talk about the respect and the dignity for each other and for the game, the spirit of the game. I just don't want to see things like that. That's just me. I just don't want to see that sort of thing in our game where, okay, someone was sharp out there and said 'well, you can appeal'. I was like, 'really – this is not going to happen, this cannot be happening, this can't be happening,'" he added.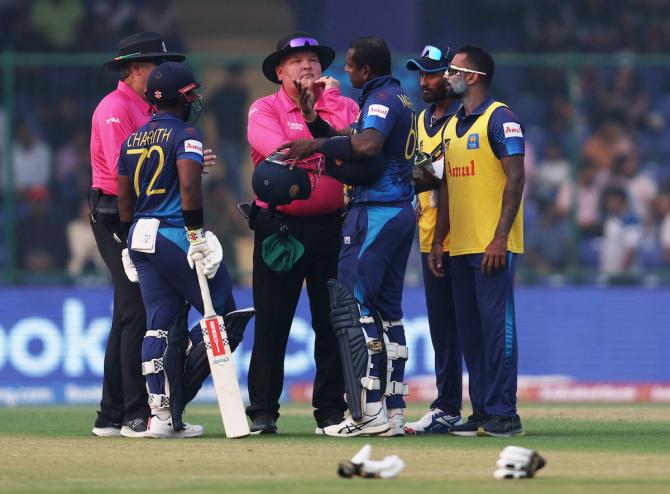 Mathews' issue was that, although having stepped out to bat at the fall of Sadeera Samarawickrama's wicket in the allotted time, he was not prepared to take the pitch because, while pulling his helmet into position, he snapped the strap.
"The most sensible thing would have been to just to say, 'okay, no worries, mate, sort your helmet out quickly; you have time to replace it'," Donald stated.
Donald claimed that he was on the verge of sprinting onto the pitch to urge Shakib to revoke his appeal when he witnessed the events taking place.
"My immediate reaction when that happened – and this is just [that] my instincts would have taken over – is I almost actually thought of going on that field and saying, 'enough is enough, we don't stand for this; we are not that kind of team who stand for this'. That was my immediate thought," Bangladesh's fast-bowling coach added.
"Things happened so quickly, but you're talking about authority and I'm not the head coach, I'm not in charge. I just saw Marais Erasmus say, 'Please Angelo, you can now depart the ground'. And, seeing Angelo pick his helmet up and then walking off and throwing it against the advertising boards; it just was… I was surprised," he added.
Bangladesh went onto secure a three-wicket win over the 1996 world champion at the Arun Jaitley Stadium. At the end of the match, the Lankan players walked off the field without shaking hands with the Bangladesh players.
Source: Read Full Article