Neeraj Chopra continues to lead with a massive 88.17 throw after the fourth round in the men's javelin throw final at the World Athletics Championships in Budapest on Sunday.
Neeraj, who started with a foul throw, bounced back with a massive 88.17 with his second attempt to grab the lead.
Pakistan's Arshad Nadeem is a close second with a best of 87.82, with Germany's Julian Weber third with 85.79.
The two Indians — D P Manu and Kishore Jena — also stayed in the medal hunt. Jena was fourth with 82.82, with Manu sixth with 83.72.
Hot favourite Neeraj Chopra, vying for gold, began with a foul throw on his first attempt in the final. Meanwhile, fellow Indian Manu DP opened with an effort of 78.44m.
Kishore Jena, the third Indian in action tonight, registers an opening throw of 75.70m.
After a foul on the opening effort, Neeraj bounced back with a massive throw of 88.17m. His second attempt saw the Indian star jump straight to the top.
Meanwhile, Manu registered a foul throw on his second attempt. Jena improved his second attempt as he registered a throw of 82.82.
Neeraj then turned in an effort of 86.32. The Indian's best effort remained his second attempt with a throw of 88.17m.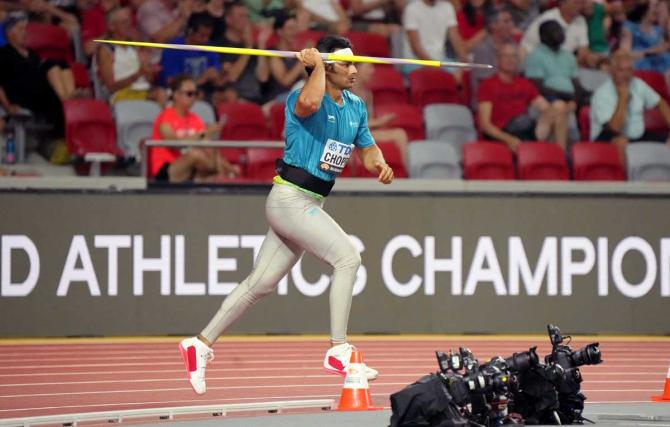 Meanwhile, Manu registered 83.72m on his third attempt. His best effort in the final was his third attempt. The third Indian in the fray, Jena
On his fourth attempt, the star Indian athlete registered a throw of 86.32m. Following four rounds, Neeraj was still the man to beat. Meanwhile, Jena registered a throw of 80.19, while Manu fouled on the fourth attempt.
Earlier, India's star athlete Chopra topped the qualifying round with a season's best throw of 88.77m. In the previous edition, Chopra bagged silver.
The 25-year-old Chopra has won gold medals in Olympics (Tokyo in 2021), Asian Games (2018) and Commonwealth Games (2018), besides becoming the Diamond League champion last year.
Source: Read Full Article